Actualités musicales
jeudi 7 novembre 2013
Popular Music of the Rust Belt
Call For Papers: AMS Popular Music Study Group
Pittsburgh, PA
November 7-10, 2013
The AMS Popular Music Study Group selection committee announces its third annual paper panel, to be held at the 2013 national meeting the of American Musicological Society. We welcome all AMS members to submit paper proposals on topics regarding American popular music through the lens of the American Rust Belt. Commonly defined through both regional and economic factors, Rust Belt communities have been formative cultural and artistic centers since the middle of the nineteenth century. The area's geographic, ethnic, and industrial features are inseparable from much of its music, and Rust Belt musicians of varying backgrounds have, in turn, shaped a regional aesthetics. The committee is especially interested in supporting scholarship that engages the urban geography work of Adam Krims.
Topics associated with the region that might be considered include:
Rust Belt cities
Music associated with artists and authors, such as Andy Warhol and August Wilson
Industrialism, post-industrialism, urban renewal, and urban migration Jazz artists such as Lena Horne, Billy Strayhorn, and George Benson
Music of Rust Belt immigrant communities
Stephen Foster
Institutions, such as the Rock and Roll Hall of Fame
Popular vocalists, such as Dean Martin and Perry Como
Urban, Punk, and Industrial musics of the upper Midwest
We invite submissions of 300-word abstracts for a 30-minute paper followed by 15 minutes of discussion. Please submit the following information, in separate files:
1) An anonymous abstract with title
2) A cover letter including the title of the proposed presentation and the author's name, email address, and institutional affiliation, if any, as well as any audio or visual needs.
Please submit the above as PDF or Word documents no later than Wednesday, May 1, 2013 to <aflory at carleton.edu>.
Music and Concentration Camps
7-8 novembre 2013, Strasbourg.
The Strasbourg-based Forum Voix Etouffées organizes on November 7 and 8 2013 at the Council of Europe in Strasbourg an international conference on the topic "Music And Concentration Camps". This conference will be presided by Carole Reich and Philippe Olivier. Among renowned speakers to appear will be Francesco Letoro, Dr. Jacek Lachendro (Auschwitz-Birkenau Museum) and many others. Founded in 2003, the Forum Voix Etouffées aims at rediscovering the music of composers banned, murdered or forced into exile by the Nazism and the other totalitarian regimes of the XXth century.
The conference itself will open the Seventh Voix Etouffées Festival - Recovered Memory -, to take place in Strasbourg and Paris between November 7 and 19 2013.
We would welcome papers on all aspects related to our topic of interest, and especially - but without restriction :
1) Theresienstadt and its musical life;
2) The function of the camp orchestras
3) Music in the "Enemy aliens" camps in France and in the UK
4) Music And Goulag
All papers will be published. Languages : English and French.
For those interested in taking part, please send a resume and a summary of your project to the following email address: info at voixetouffees.org
Festival Voix Etouffées
https:// www.voixetouffees.org
Amaury du Close
125, rue de Turenne
75003 Paris
06 28 51 57 74
Le violon Yiddish : Éléonore Darmon (violon) et Simon Ghraichy (piano) à Saint-Mandé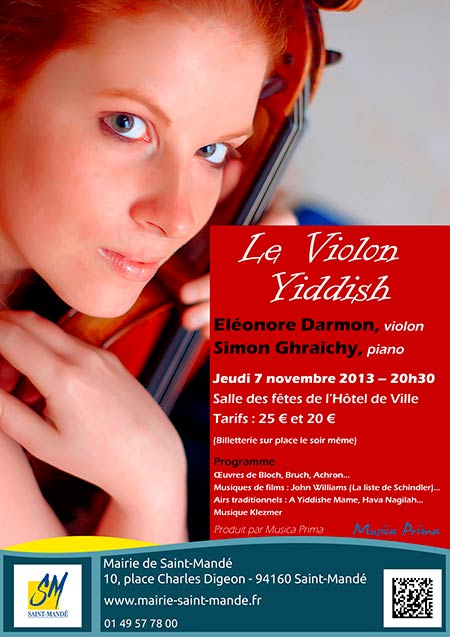 Eléonore Darmon (violon)
Simon Ghraichy (piano)
Œuvres de
Bloch, Bruch, Achron...
Musiques de films
John Williams (La liste de Schindler)
Airs traditionnels
A Yiddishe Marne
Hava Nagilah...
Musique Klezmer
Jeudi 7 novembre 2013 à 20h30, Salle des fêtes de l'Hôtel de Ville Tarifs : 25 € et 20 €. Produit par Musica Prima.
Télécharge-moi si tu peux : table ronde le 13 novembre à Paris
A l'occasion de la sortie de l'ouvrage Télécharge-moi si tu peux. Musique, Film, Livre, une table ronde sur l'offre culturelle légale et illégale sur internet est organisée par les auteurs :
mercredi 13 novembre 2013, à 17h30
Maison des Sciences de la Communication
20, rue Berbier du Mets, 75013 Paris
Avec
Rémi Gimazane, Conservateur des bibliothèques, Chef du département de l'économie du livre - Ministère de la culture et de la communication
Alain Rocca, Producteur, Administrateur délégué de l'Académie des Arts et Techniques du Cinéma, Président d'Universciné
Pascal Nègre, Président d'Universal Music France, Membre du Conseil d'Administration d'Universal Music Group Responsable des New Business, Président de la SCPP
Animée par Rémi Jacob, Journaliste - Ecran Total
Pour plus d'informations : ecolemedias@univ-paris1.fr

Joëlle Farchy, Cécile Méadel, Anna Bernard, Mathilde Gansemer & Jessica Petrou, Télécharge-moi si tu peux. Musique, Film, Livre. Presses des mines, Paris 2013 [112 p. ]
Revue de presse musicale
À propos du site S'abonner au bulletin Liste Collaborations

©musicologie.org 2013
ISSN 2269-9910