dimanche 1er mars 2015
Les édition musicales Amadeus reçoivent le Prix Telemann de la ville de Magdeburg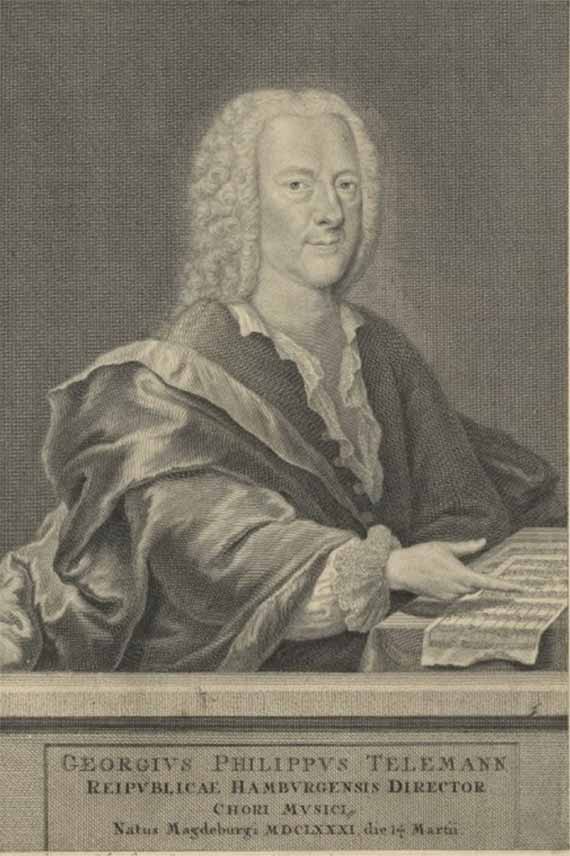 La ville de Magdebourg délivre depuis 1987 un Prix pour tout ce qui concourt à la diffusion et à la connaissance de l'œuvre et de la vie de Georg Philipp Telemann (1681-1767), enfant de la cité.
Cette année, les éditions Amadeus de Winterthur en Suisse ont été récompensées, elles reçoivent le diplôme, la médaille de bronze et 2 500 euros.
Carsten Lange, du Centre Telemann de Magdebourg a salué les efforts de la maison d'édition qui a fait probablement plus qu'aucune autre maison en faveur de l'œuvre de chambre du compositeur, avec 200 publications le concernant.
The Serenata and the Festa Teatrale in 18th-Century Europe
26-27 juin 2015, Queluz National Palace, Portugal
Deadline: March 31, 2015
Organized by Centro de Estudos Musicais Setecentistas de Portugal
Scientific Committee : Manuel Carlos de Brito (Portugal), Paologiovanni Maione (Italy), Annarita Colturato (Italy), Cristina Fernandes (Portugal), Iskrena Yordanova (Bulgaria)
Keynote speakers: Andreia Sommer-Mathis (Austria), Annarita Colturato (Italy)
The CEMSP is organizing, from 26 to 27 June 2015, an International Colloquium at the National Palace of Queluz, dedicated to the Serenata and the Festa teatrale at the courts of Europe in the 18th century.
Investigating the distinctive character and contexts of the Festa teatrale and the Serenata at a time when musical theatre was an integral part of the ceremonial of the court and was a privileged ritual of repraesentatio maiestatis, implies an approach to these works full of metaphors and symbolic allusions that takes into account the multiplicity of aspects that involve the context of celebration and the choice of themes, its textual and musical structure, the dramaturgical forms, the vocal and instrumental ensembles, and the various options with regard to the stage apparatus With this Colloquium, the CEMSP aims to encourage dialogue concerning the production and circulation of the Serenata, one of the principal musical genres performed at the Palace of Queluz during the 18th century, and to focus attention on the Portuguese contribution to the European musical circuit of the time.
The official languages of the conference are Portuguese, English and Italian. Individual Papers are limited to 20 min. Single-topic panels involving joint presentations by three of four authors may also be considered (max. length: 1h30min). Please submit an abstract of no more than 300 words and a short bio (150 words max.)
E-mail: cemsp -at- sapo.pt
All proposals should be submitted no later than March 31st 2015. Please include your name, contact details (postal address, e-mail and telephone number) and affiliation.
The Scientific Committee will make the final decision on the abstracts by April 10th 2014 and contributors will be informed immediately thereafter.
Principles of Music Composing: Phenomenon of Melody
15-17 October 2015, Vilnius, Lithuania
15th International Music Theory Conference
The deadline for proposal submissions is June 14th, 2015 . The proposals will be reviewed by members of the scientific committee and all applicants will be notified of the outcome in the end of July 2014.
Paper proposals (abstract together with a short biography) should be sent to Mr. Andrius Maslekovas: a.maslekovas -at- yahoo.com . The abstract must not exceed 500 words. The duration of papers will be limited to 20 – 25 minutes.
For more information visit: https://pmc.lmta.lt/EN.html
Conference Venues: Lithuanian composers' union, Lithuanian academy of music and theatre, Vilnius
Sub-themes:
1. Theoretical conception of the phenomenon of melody:
a) differentiation of concepts related to the melody: monody, voice, themes, cantilena, line, horizontal etc.;
b) definition of permanent constants of melody: archetypes, structures, functions, communication;
c) analysis of relation of melody and composing principle (compositional entirety), typological schemes.
2. Melody in the context of European polyphony.
3. Differences in paradigms of melody and Eastern monody.
4. Melody in modern compositional practice:
a) new melodic interval relations;
b) linearism and vertical;
c) melodic rhythm (activation of rhythm);
d) sonorisation of melodic process.
5. Melody in the works of contemporary Lithuanian composers.
6. Ethnic melodic features in the works of M. K. Ciurlionis.
The main language of the conference is English.
The material of the conference will be published
Conference title: Exploring the Romantic Piano Concerto
15-17 juillet 2015, Dublin
Conference venue: School of Music, University College Dublin, Ireland.
Deadline for submissions: 9 March 2015
'Exploring the Romantic Piano Concerto' (https://concerto2015.com/) is an international conference that serves as a platform to investigate all aspects pertaining to the piano concerto genre in the long-nineteenth century. It seeks both to reconsider neglected repertoire from a vast array of composers including Dussek, Cramer and Field to Stenhammer and Medtner, to challenge and reinvigorate received scholarship in the area, and to provide fresh contexts for those more canonical works from Beethoven to Rachmaninov.
The programme committee welcomes proposals from scholars working in a wide variety of fields, including historical musicology, theory and analysis, aesthetics, performance studies, cultural history and the sociology of music. Themes of inquiry include, but are not limited to:
§ Musical life in European cities;
§ Identity and social constructions of the composer;
§ Nineteenth-century music criticism and journalism;
§ The performer as interpreter;
§ Questions of canon formation;
§ The piano concerto and commercial life;
§ Analysis;
§ Genre and virtuosity;
§ Archival studies;
§ Gender studies;
§ Musical centres and peripheries;
§ The piano concerto and the history of the piano.
Keynote Speaker: Professor Claudia Macdonald (Oberlin College & Conservatory)
Deadline for submissions: Monday 9 March 2015
§ Please submit title and abstract in one document.
§ A biography, including the title of your paper, should be attached as a separate document.
§ Individual paper abstracts should be no longer than 300 words.
§ Themed session proposals should include a 300-word rationale for the session as a whole, and a 300-word abstract for each paper.
§ All abstracts and proposals should be submitted as a Microsoft Word document or as a PDF.
Proposals should be sent to the programme committee at: concerto2015 -at- ucd.ie.

Myrelingues 2015 : Mille langues au pays de la musique classique. Lyon 1-9 mars 2015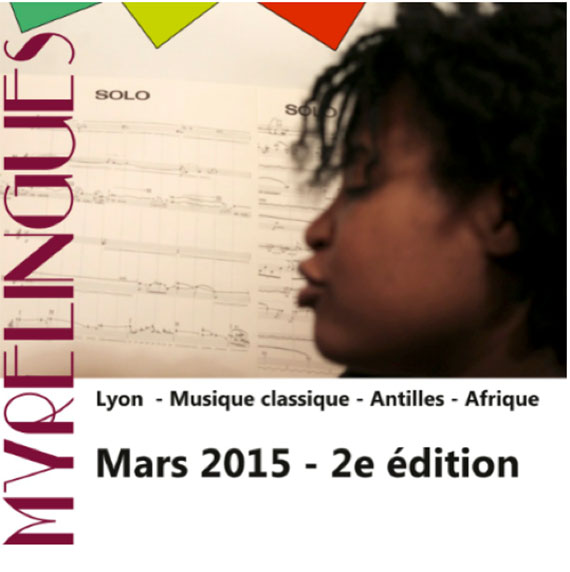 A l'attention de ceux qui croient que l'Afrique et les Antilles ne produisent que des musiques tribales ou de divertissement...
Du 1er au 9 mars se tiendra à Lyon la 2e édition du festival Myrelingues, un jeune festival atypique qui met en résonance le thème de l'Afrique et des Antilles et la Musique classique.
Prétexte, le festival occupe un segment relativement inexploré propice aux découvertes et aux mélanges des publics (le festival permet d'entendre aussi des tubes de Jean-Sébastien Bach, de la musique sud-américaine ou des compositeurs londoniens).
Le festival met un point d'honneur à ce que les concerts soient servis par des musiciens tous professionnels et de qualité.
Trois concerts pour cette édition : un concert d'orgue au coeur de la Guillotière, avec les classiques Bach, Vierne, mais aussi les découvertes de Eugene Hancock, ou la londonienne Errolyn Wallen. Egalement une création sur des motifs antillais d'Edouard Delale,
Un concert texte et guitare autour de Leo Brouwer, Augustin Barrios... des textes de Jean Yves Loude (à l'occasion de la parution de Port).
Un récital de piano de Gabriel-Urgell Reyes autour de Monpou, Ginastera (des créations du pianiste lui-même et d''autres actionssont prévues en marge des concerts).
La première édition du festival en 2014 avait été l'occasion de redécouvrir des compositeurs comme Fela Sowande ou Ignatius Sancho. Ne dit-on pas que la musique abolit les frontières ? Myrelingues (« mille langues », néologisme emprunté à Rabelais) s'intéresse à quelques un de ces nomades troubadours qui nous prouvent que la musique du monde ne date pas d'hier avec des compositeurs qui prenaient un malin plaisir à se présenter comme des « sauvages au clavecin »...
Un projet Ulule (Myrelingues 2015) sera par ailleurs mis en place pour aider à l'organisation et mieux faire connaître ces musiques...
Dimanche 1er mars 2015 : 17h30 Eglise St Louis de la Guillotière concert d'Orgue de Hyewon Min ( oeuvres de Bach Cooper, Hancock, Wallen Delale, Vierne ). Concert en partenariat avec les heures d'orgue de St Louis de la Guillotière – libre participation aux frais
Mercredi 4 mars 2015 : 19h Salle des Mariages, Mairie du 7e arrondissement Concert guitare Bruno-Michel abati et Jean Yves Loude (textes)
En partenariat avec la Mairie du 7e arrondissement – entrée libre

Lundi 9 mars 2015 : 20h30 Temple Lanterne 10 rue lanterne 69001 Lyon
Récital de Piano de Gabriel Urgell-Reyes Oeuvres de Ginastera, Mopou, Reyes, Farinas... Billetterie sur place 15-10 euros


ISSN 2269-9910
©musicologie.org 2013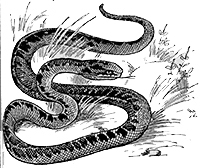 Dimanche 15 Mars, 2015 18:58