Beyond Notation : An Earle Brown Symposium
Northeastern University, January 18-19, 2013
Beyond Notation is a two-day symposium on American avant-garde composer Earle Brown (1926-2002). A native of Massachusetts, Brown studied at Northeastern University and Schillinger House (now Berklee College of Music) before establishing his career in New York and Europe as a groundbreaking composer and conductor of graphic notation and "open form" music. An international group of presenters from music, art, and dance will examine the life and musical legacy of Earle Brown, including Kyle Gann (Bard College),Richard Toop (Sydney Conservatorium), Susan Sollins Brown (President, Earle Brown Music Foundation), Thomas Fichter (Director, Earle Brown Music Foundation), Carolyn Brown (Merce Cunningham Dance Company), Louis Pine, pianists Steffen Schleiermacher (Leipzig, Germany) and Stephen Drury(New England Conservatory), Callithumpian Consort (Boston, MA), andMickey Katz (Boston Symphony Orchestra Community Chamber Players). The U.S. premiere of Brown's sound installation Music for Galerie Stadler (1964) will be hosted by Gallery 360 at Northeastern University alongside a photo exhibit, January 14-February 26. Events will be held at the Fenway Center of Northeastern University, Blackman Auditorium, and Calderwood Hall of the Isabella Stewart Gardner Museum.
All events are free and open to the public but registration is recommended as seating may be limited. The 'Art and Music of Earle Brown' session on Jan. 18 at the Isabella Stewart Gardner Museum may be subject to museum admission fees for registrations submitted after January 17, 2013.
See the full schedule and register at www.music.neu.edu/earlebrown

« Gay, gay, marions-les », David et Jonathas

de Marc-Antoine Charpentier (Opéra Comique, 16 janvier 2013)

par Frédéric Norac —

Amour, fidélité, jalousie... Le père Bretonneau n'y va pas de main morte dans son livret pour caractériser les relations entre David et Jonathas, dans cette tragédie biblique de Marc-Antoine Charpentier créée en 1688 chez les Jésuites du Collège Louis-le-Grand. Ce n'est pas encore le « mariage pour tous », mais cela sonne très « gay friendly » à nos oreilles contemporaines. D'autant plus que le metteur en scène en profite pour nous raconter cet épisode bien connu dans un registre qui renvoie plus aux « amitiés particulières » qu'à l'amour « mystique » évoqué par la Bible.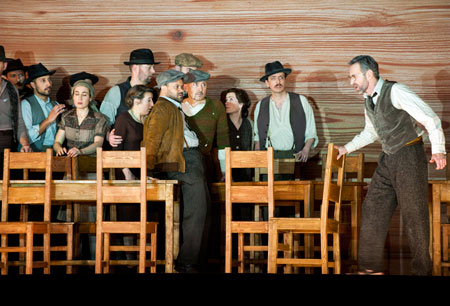 The National Element in Music
18-20 janvier 2013, Athènes
Honoring the 50th anniversary since the passing of Manolis Kalomiris (1883-1962), founder of the Greek National School of Music, the Faculty of Music Studies of the University of Athens and the Music Library of Greece "Lilian Voudouri" organize a musicological conference, which will take place in Athens between 18 and 20 January 2013.
The title, reflecting the main issue of this conference, will be the "National Element in Music". Although the diverse aspects on the National Schools of Music that were cultivated from mid-19th-century onwards constitute the focal point of the conference, the committee will also consider any other approaches, especially those related moregenerally to the presence of folk element in music, as well as to issues concerning notions such as national identity and music, or even patriotism, nationalism, traditionalism in music life and populism in music.
Proposals may address the following aspects of the conference's general theme:
• National schools of music
• The presence of folk element in music
• National identity and music
• Aspects of patriotism, nationalism, traditionalism in music life
• Populism and music
• Politics and music
The conference's official language will be English. Proposals up to 250 words for 20- minute papers and also proposals up to 500 words for 1-hour themed sessions, accompanied by short biographical notes (of up to 200 words), should be sent to nem2013.uoa at gmail.com by 31 August 2012 (receipt of proposals will be verified by e-mail). All abstracts will be reviewed and the results will be announced by 30 September 2012. The accepted full papers for the online publication of the proceedings should be submitted by 31 March 2013.
For more information, please visit the conference's website: https://nem2013.music.uoa.gr.
On behalf of the Organizing Committee, Alexandros Charkiolakis (Music Library of Greece)
Conference e-mail: nem2013.uoa at gmail.com
Naïve sur les rangs pour la reprise de Virgin
Naïve et Rough Trade présenteront certainement une proposition de reprise de Virgin Megastore, placé en redressement judiciaire en début de semaine.
Patrick Zelnik a créé la filiale française de Virgin et présidé sa filiale distribution avant de créer Naïve. Il rencontrera les représentants de Rough Trade la semaine prochaine à Londres.
4 rappeurs de Grigny trahis par les paroles vantardes de leurs chansons
Les titres de vantaient leurs méfaits, les quatre rappeurs de Grigny âgés de 15 à 18 ans, ont été déférés jeudi à Evry, pour des vols avec violences, notamment sur des automobilistes.
Dans Grigny Wood ils chantent T'arrête pas au feu mets pas ton sac sur le siège passager, on te pèta ton sac-à-main tu subiras un arraché.
On leur impute 28 vols à la portière, tous commis au au même feu rouge, en lisière d'une cité classée zone de sécurité prioritaire.
Les conductrices étaient repérées, et leur vitre fracturée avec un brise-vitre de la SNCF.
Un brise-vitre de la SNCF, ainsi qu'une carte bancaire dérobée le 7 janvier lors d'un vol au cours duquel une femme avait reçu une dizaine de coups de pied dans la tête on été trouvés lors d'une perquisition.
Revue de Presse musicale du 18 janvier 2013
Marsactu) Marseille capitale et désert musical
(La Dépêche) Josep Pons au pupitre de l'Orchestre du Capitole
(L'Avenir net) À Liège ça « roule » pour l'orchestre
(Culturebox) Décès de Bob Quibel, le chef d'orchestre de « L'école des fans »
(AFP/Le POint) Sexe, internet et rock'n roll au 29e festival de Sundance
(Culturebox) Triomphe à l'Opéra de Marseille pour le week-end d'ouverture de Marseille-Provence 2013
(AFP/NVI) Jane Birkin « va bien » après ses problèmes de santé
(Culturebox) « L'opéra éclaté » repart sur les routes avec « Lost in the stars »