Confraternities and Urban Performance in the Late Medieval and Early Modern World
Call for Papers
Sessions at the Renaissance Society of America meetings in San Diego, California, 4-6 April 2013
The performances staged by confraternities in the streets and squares of medieval and early modern cities have been the focus of considerable scholarly attention in recent years. The Society for Confraternity Studies seeks to further this conversation by soliciting submissions for a series of panels that examine the relationship between corporate devotion and urban theatre. Possible topics include, but are not limited to, devotional theatre, sacre rappresentazioni, execution rites, miracle plays, charitable performances, alms collections, relic translations, funeral ceremonies. Submissions are especially welcome from scholars using innovative methodologies to frame and characterize the role of confraternal performance, broadlyconceived, in popular devotion.
Submissions from all geographical areas and through the time period of 1350-1750 are welcome.
Please email a brief abstract (maximum 250 words) and a CV to Diana Presciutti (dpresciutti at wooster.edu) The submission deadline is 1 June2012.
The session is sponsored by the Society for Confraternity Studies.
For further information on the RSA meetings in San Diego, CA, see:
https://www.rsa.org/?page=2013SanDiego
Des Ponts vers l'Amérique III : Interactions entre musique savante et musique populaire aux États-Unis (XXe et XXIe siècles)
Colloque International, 4-5 avril 2013, Centre de Documentation de la Musique Contemporaine (CDMC), Paris.
Date limite 1er novembre 2012
CRAL (Centre de Recherches sur les Arts et le Langage) UMR8566 EHESS, Music Team ; RASM (Recherche, Art, Spectacle, Musique) University of Evry-Val d'Essonne CDMC (Centre de Documentation de la Musique Contemporaine).
Comité scientifique français : Max Noubel (CRAL/EHESS, Université de Bourgogne) ; Philippe Gumplowicz (RASM, Université d'Évry-Val d'Essonne).
Ce colloque a pour but d'examiner les frontières fluctuantes entre la musique populaire et la musique savante américaines des xxe et xxie siècles de la façon la plus large possible qui puisse rendre compte, à travers un réexamen de son histoire proche et plus lointaine et à travers l'observation de son présent, de la grande richesse musicale d'un pays en perpétuelle mutation culturelle.
Au cours du siècle dernier, la musique classique américaine a intégré des éléments de langage, des genres et des esthétiques provenant des musiques populaires les plus diverses. Il suffit de penser, entre autres, à des compositeurs comme Charles Ives, George Gershwin, Aaron Copland ou encore John Adams pour mesurer l'importance du phénomène. À l'inverse, de nombreux compositeurs de musique dite populaire, du jazzman Duke Ellington au rocker Frank Zappa et bien au-delà, ont franchi le Rubicon et sont allés explorer les territoires « sacrés » de la Grande Musique. Pourtant, de part et d'autre, ces pratiques ont alimenté de vives polémiques entre les tenants d'une musique produite à l'écart de toutes formes de « contamination » extérieure et les partisans d'une création ouverte puisant son énergie et son renouveau dans des pratiques et des genres musicaux plus proches du peuple. En 1935, un compositeur comme Virgil Thomson pouvait écrire à propos de Porgy and Bess qu'il lui importait peu que Gershwin composât de la musique populaire ou de la grande musique mais qu'il lui reprochait de ne pas faire un choix clair entre les deux. Aujourd'hui, pour de nombreux compositeurs américains, la question du choix ne se pose plus, du moins d'une façon aussi tranchée. S'il existe quelques poches de résistance où se cultive encore un positionnement radical, la peur de laisser entrer le cheval de Troie dans la tour d'ivoire semble appartenir à un passé révolu. Comme l'a affirmé Alex Ross, à l'orée du xxie siècle, la tentation d'opposer sempiternellement la musique classique à la culture populaire n'a plus de sens, ni émotionnellement, ni intellectuellement.
Cependant, bien que tendant à se réduire, les différences entre musique populaire et musique savante sont loin d'être effacées et il convient de se demander si elles ne maintiennent pas encore un pouvoir de stimulation créatrice et une force régénératrice pour les deux parties.
Mais qu'en sera-t-il de l'avenir ? La porosité toujours plus grande de la musique savante autant que celle de la musique populaire laisse-t-elle, en favorisant d'incessantes infiltrations, entrevoir une fin des distinctions ? Le sort de la musique classique savante américaine est-il scellé ? Celle-ci est-elle condamnée à disparaître en tant que telle ? Si ce colloque n'a pas la prétention d'apporter des réponses définitives, il est souhaitable que ces questions apparaissent en filigrane dans les débats et les tables rondes.
Ce colloque est ouvert à un large éventail de musiques.
Les approches pourront se situer, entre autres, dans le domaine de l'analyse musicale, de
l'histoire de la musique et de l'histoire culturelle, des sciences sociales ou de l'esthétique.
Contact : Max Noubel, Responsable scientifique Des ponts vers l'Amérique III maxnoubel@gmail.com
Chaque communication, d'une durée de 30 minutes maximum, sera suivie d'une discussion-débat de
10 minutes. Une table ronde clora chacune des deux journées.
Langues du colloque : français et anglais.
Les propositions de communication sont à envoyer avant le 1er novembre 2012 accompagnées d'un titre provisoire, d'un abstract de 400 mots maximum et d'un bref CV par e-mail à l'adresse suivante :c_desponts3@orange.fr
Les actes du colloque seront mis en ligne sur le site du CRAL (https://cral.ehess.fr)

Bridges toward America, Part III : Interactions between Popular and Art Musics in the United States (20th and 21st centuries)
An International Conference, 4-5 April 2013, Centre de Documentation de la Musique Contemporaine (CDMC), Paris, France.
Local Scientific-Organisational Committee : Max Noubel (CRAL/EHESS,Paris, Université de Bourgogne) ; Philippe Gumplowicz (RASM, Université d'Evry-Val d'Essonne)
This conference seeks to examine the interactions between popular and art American music in the 20th and 21st centuries, adopting a perspective as large as possible, including the reconsideration of America's near and remote past and the careful observation of its present, as a means of taking stock of the great musical richness of a country in continual cultural transformation.
Over the course of the past century, American music written for the concert hall has integrated elements of language, genres, and aesthetics derived from the most diverse forms of popular music. One need only consider the work of composers such as Charles Ives, George Gershwin, Aaron Copland or John Adams, among others, to recognize the importance of the phenomenon. Conversely, numerous composers of so-called popular music, from jazzman Duke Ellington to rocker Frank Zappa and beyond, have crossed the Rubicon and explored the "sacred" territories of classical music. Such practices have aroused considerable controversy, however, both among supporters of a music produced at a remove from external "contamination" and among the upholders of a more open style of creation drawing energy and renewal from musical practices and genres closer to a mass public. In 1935, a composer such as Virgil Thomson could write, with regard to Porgy and Bess, that he did not really mind whether Gershwin composed art or popular music, but he wished he would make a clear choice between the two. For many American composers today, the question of such a choice no longer presents itself, or at least not in such clear-cut terms. Although a few pockets of resistance are still holding a radical position, the fear of letting the Trojan horse into the ivory tower of art music seems to belong to another age. As Alex Ross put it at the dawn of the 21st century, the temptation to eternally oppose art music and popular culture no longer makes sense, emotionally or intellectually.
Although the differences between popular and art music have become less marked, however, they have not disappeared — far from it. It is thus worth asking whether these differences do not in fact continue to act as a creative stimulant and regenerative force on both sides.
What, moreover, does the future hold in this regard? Does the ever-increasing porosity of both art and popular music, by favoring incessant cross-fertilization, prefigure the end of such distinctions? Is the fate of American art music already sealed? Is it bound to disappear as such? Although this conference does not pretend to provide definite answers, it is hoped that these questions will repeatedly emerge during the debates and roundtables.
The conference is open to a wide range of musics. Approaches will be situated within the fields of musical analysis, musical history, cultural history, social sciences or aesthetics.
Contact : Max Noubel, scientific director Des ponts vers l'Amérique IIImaxnoubel@gmail.com
Each paper will be limited to a 30-minute presentation with an additional 10-minute discussion follow-up.
Languages of the conference: French or English
Please send an abstract of not more than 400 words as well as a short résumé to:
Dealine : 1 November 2012
Papers will be published on the CRAL website (https://cral.ehess.fr)
Le Lac des Cygnes, par le Saint Pétersbourg Ballet Théâtre, à Nice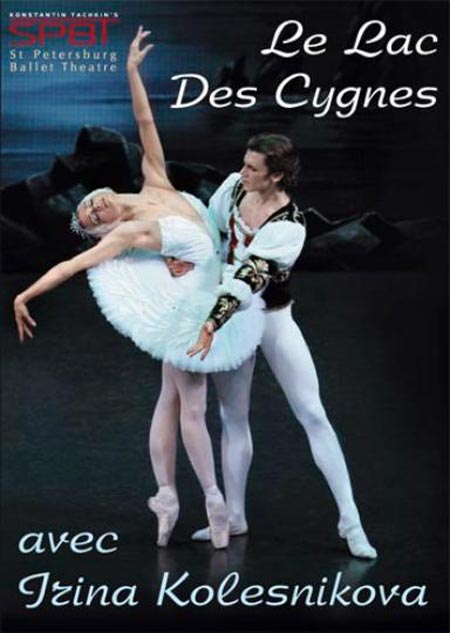 Le lac des cygnes est un des ballets les plus célèbres, c'est un des joyaux du répertoire de la musique classique avec des mélodies sublimes de Piotr Tchaikovski. Interprété par le Saint-Pétersbourg Ballet Théâtre, une des meilleurs troupes de Russie qui frappe et séduit au fond par
sa jeunesse et son entrain.
Les danses sont exécutées avec un style raffiné et une énergie qui les rend très intéressantes à regarder. L'élégance et le style, la discipline des alignements et l'harmonie d'ensemble caractérisent la troupe du Saint-Pétersbourg Ballet Théâtre (SPBT) qui nous fait vibrer en regardant la superbe légende de la danseuse-cygne.
L'orchestre qui accompagne cette compagnie prestigieuse crée une atmosphère énigmatique de la soirée.
Jeudi 4 Avril 2013 à 20h
Nice, Acropolis
Ballet en 3 actes (4 tableaux)
Musique: P.
Ballet en 3 actes (4 tableaux)
Musique de Piotr Ilitch Tchaikovski
Chorégraphied de
Marius Petipa et Lev Ivanov (1895) revue par
Konstantin Sergueev (1950).
Argument de
V. Begichev et Vassili Geltzer.
Décors de Semion Pastukh
Costumes de Galina Solovieva
Tarifs, de 38 € à 60 €. Locations : points de vente habituels.
Shifting Positions : Writing Materialities of Sound
Shifting Positions : Writing Materialities of Sound Seminar
American Comparative Literature Association, University of Toronto, April 4-7, 2013.
Seminar Convenors: Rachel Beckles Willson (Royal Holloway, University of London), Dylan Robinson (Royal Holloway University of London).
Deadline for submissions: November 1, 2012
Writings on "new materialism" and "non-representational theory" have challenged the ways in which scholars conceptualize subject-object relationships. While these theoretical perspectives have grappled with the materiality of immaterial objects (atmospheres, scents, affects), they have less frequently examined the materiality of sound.
The world-building capacities of language frequently perform the task of conveying the materialities of sound and sonorous experience. What are the interchanges that occur as we formulate sound in language ? How does the linguistic process retain or transform material sound-experience, affect, emotion, atmosphere? If we use language that is tactile and haptic, delving in weights and impacts and dealing in the senses, does this displace the original experience and become an overbearing materiality in itself? Or can it leave space for a reader to feel for themselves (or at least imagine and appreciate) the sonorous materialities being addressed ? How might language allow material experiences – of sound – to emerge and grow upon a reader? What methods – what "close materialist readings" – are available to us? How might different languages enable new textual relationships with sound ?
Topics of interest may include, but are not limited to :
How do we theorize sound's affective intensities (touch, force, envelopment). How do sound's haptic qualities discomfort or attract us ?
How have artists – novelists, poets, filmmakers – approached conveying the materiality of sound through their work ?
How do we position ourselves textually in relation to sound's materiality? What creative models of writing (writing as combat, as gift, as event) might engage sound's materiality upon relational and materialist terms ?
How do we describe the various material interactions we have with sound as listeners, and players, and as we move with it (and as it moves us) within space – down streets listening to ipods and upon dance floors? What is the agency of sound in these relationships ?
What is the political resonance of sound; how does its materiality take part in 'sensate democracy'? How does its materiality engender a sense of belonging or alienation ?
To submit a proposal to participate, please use the online submissions form here: https://acla.org/submit/index.php, and select "Shifting Positions: Writing Materialities of Sound" from the drop-down menu.
For more information please contact Rachel Beckles Willson (R.BecklesWillson at rhul.ac.uk) or Dylan Robinson (Dylan.Robinson at rhul.ac.uk).
The Idea of North (call for Papers)
American Comparative Literature Association, University of Toronto, April 4-7, 2013. Seminar Organizer: Brent Wetters (Brown University). Deadline for submissions: November 1, 2012
Website: https://www.acla.org/acla2013/the-idea-of-north/
In 1967, Glenn Gould produced a radio documentary, The Idea of North – a one-hour program of interviews exploring practical and philosophical views of the Canadian north. Describing the significance of the north, Gould wrote, "Something really does happen to most people who go north – they become at least aware of the creative opportunity which the physical fact of the country represents and – quite often, I think come to measure their own work and life against that staggering creative possibility: they become, in effect, philosophers." In the subsequent years, the question of the north has become ever more urgent, as it has become the site where the world's changing climate is felt most acutely. As ice melts, new contested spaces are opened for exploration, travel, and research. Gould's Idea of North is also situated on its own contested terrain. It is, as Gould's says, a "documentary which views itself as a drama," but it is also music.
This seminar aims to bring together a variety of approaches and
disciplines that each seeks to understand the north in its own way.
Topics might include:
Glenn Gould's Idea of North
Literary evocations of the north (i.e. Frankenstein, Robert Service,
Mandelstam, Auden, Nabokov, Pullman)
Utopian fantasies of the north (i.e. Hitler's polar obsession)
Contested borders of the arctic
Musical representations of the north
The north as it relates to Heidegger, Agamben, and "the open."
To submit a proposal, please visit
https://acla.org/submit/index.php,
enter your paper proposal, and select "The Idea of North" from the drop-down menu. Please contact Brent Wetters directly (bwetters at medusarecords.org) for more information or to informally discuss proposals prior to submission.
The Performing Body in the Hollywood Film Musical: An Interdisciplinary Symposium
April 4-6, 2013, Colgate University, Hamilton, NY
Call for Papers
Since its emergence in the 1920s, the film musical has woven together utopian visions and cultural realities, simultaneously creating, reflecting, and critiquing contemporary social, political, and economic conditions. Frequently, film musicals communicate these ideologies through the performing bodies of the film's cast and crew. This symposium will consider the ways in which bodies perform in the film musical, and what such performances signify. Papers are invited that consider the following questions, among others: how do song and dance animate and define bodies onscreen? When and why are performing bodies marked in terms of gender, race, class, sexuality, and when do these bodies remain unmarked? How do onscreen musical and danced performances differ from those bodily performances that remain invisible to audiences, including those of crew members, sideline and film orchestra musicians, vocal and dance doubles, and so on? How do the film musical's modes of performance both reflect and influence contemporary production practices?
Submissions from across disciplines are encouraged this symposium is intended as a space for scholars from musicology, film studies, dance, theater, and other fields to share their work and consider various disciplinary methodologies and approaches to the genre. We are delighted to welcome three distinguished keynote speakers: Steven Cohan (Syracuse University), Caryl Flinn (University of Michigan), and Adrienne McLean (University of Texas-Dallas).
Proposals for 20-minute papers should include a name, institutional affiliation (if appropriate), and an abstract of no more than 300 words. Please submit all proposals to filmmusicals (at) colgate (dot) edu by December 15, 2013.
For more information, see www.colgate.edu/filmmusicals, or by contacting Mary Simonson, Assistant Professor of Film & Media Studies and Women's Studies at Colgate University, at msimonson (at) colgate (dot) edu.
L'Orchestre symphonique de Nancy rend un hommage au cinéma
Dès les premiers temps du cinéma muet, le public appréciait les pianistes ou les petits orchestres qui accompagnaient les fiilms dans le noir, en s'aidant de catalogues d'effets musicaux appropriés aux émotions. Puis les films ont été sonorisés, de bruitages et de musique. Il nous semble tout à fait naturel d'entendre des violons quand des amoureux s'embrassent dans la rue.
Bien que destinée à soutenir les images, la musique de films compte des chefs-d'œuvres autonomes ou réorganisé en suites, des airs, des mouvements comptant dans lma patrimoine de qualité.
4 avril 2013 à 20h30
Nancy Salle Poirel
Orchestre symphonique de Nancy
Ryan McAdams, direction musicale
Hommage au cinéma
Korngold (1897-1957)
L'Aigle des mers, ouverture
Bernard Herrmann (1911-1975)
Psychose, prélude
William Walton (1902-1983)
Henry V, suite symphonique
John Williams (1932-....)
Les Aventuriers de l'Arche perdue, marche
Leonard Bernstein (1918-1990)
Sur les quais, suite symphonique
George Gershwin (1898-1937)
Un Américain à Paris
Ryan McAdams
Né en 1982 à Saint-Louis, il a reçu son Master en musique de direction d'orchestre à la Juilliard School en 2006 et est sorti diplômé en piano de l'Indiana University en 2004, où il a étudié avec Karen Shaw.
Il vient de faire des débuts salués par le Jerusalem Post à l'Israel Philharmonic où il a remplacé Raphael Fruhbeck de Burgos. Son travail en tant que quinzième directeur musical du New York Youth Symphony a été qualifié par le New York Times d'excellent. Grâce à une bourse d'études il a précédemment été l'assistant du chef d'orchestre Alan Gilbert au Royal Stockholm Philharmonic.
En 2005 et 2006, il a assisté à l'Aspen Music Festival, étudiant aux côtés de David Zinman et Murry Sidlin. Nommé à la fois par le Maestro Zinman et le Glimmerglass Opera, il a reçu le premier le prix du Glimmerglass – Aspen pour la direction d'opéra. Suite à ce prix, il a assisté le chef pour la saison 2007 au Glimmerglass Opera.
En 2007, il a été invité par Lorin Maazel pour un poste d'assistant chef d'orchestre pour la fondation Chateauville au Maazel Estate en Virginie, et a assisté le maestro pour une production de Britten, Le Viol de Lucrèce.
En 2008, à l'invitation de James Levin, il a été l'un des chefs du Tanglewood Festival.
En 2008, il a été assistant chef d'orchestre pour l'Aspen Music Festival.
Ryan McAdams a reçu le prix Sir Georg Solti en tant que chef débutant. Il a fait des débuts en Europe en février 2010 avec l'Orchestre Maggio Musicale à Florence.
Réengagé par le Maggio, il y retourne en 2012 pour des opéras et pour des concerts en 2014-2015.
En Europe de l'Est, il a commencé une collaboration avec l'Academy St. Martin in the Fields, Julian Rachlin et Mischa Maisky à Dubrovnik en septembre 2010. Récemment, il a dirigé le concert pour le 103e anniversaire d'Elliott Carter au 92Y avec Fred Sherry et Nicholas Phan.
Son premier enregistrement en direct est un concerto pour violon Contes de fées de John Zorn en 2010, diffusé sous le label du compositeur.
Parmi ses engagements pour la saison 2012-2013, citons des concerts avec l'Orchestre Sinfonica della RAI, le Maggio Musicale Fiorentino, l'Indianapolis Symphony, au CityMusic de Cleveland, et des débuts à l'Opera Theather de Saint-Louis, avec le Louisville Orchestra, le Tanglewood BUTI Orchestra, au Meltdown Festival, et au Queen Elizabeth Hall de Londres. Il a également fait de récentes apparitions remarquées avec l'Israel Philharmonic, le Los Angeles Philharmonic, le Columbus Symphony, le Princeton Symphony, le Saint Paul Chamber Orchestra, à l'Academy of St. Martin in the Field, au New York City Opera, au New York City Ballet, le Sinfonica Nazionale della Rai, l'Indianapolis Symphony, au CityMusic de Cleveland, au Aspen and Tanglewood Music Festival, aux Wordless Music Series, avec le New Jersey Symphony, au Glimmerglass Opera, et au Juilliard FOCUS! Festival
Le jazz féminin en festival à l'aéroport d'Orly
Le jazz féminin est à l'honneur jusqu'à la fin de la semaine à Orly, à l'occasion du festival « Elles », accessible gratuitement aux passagers.
Parmi les artistes programmées on entendra la saxophoniste altiste Géraldine Laurent, dont l'album Around Gigi a été élu meilleur album Jazz 2010 de l'Académie du jazz, et la saxophoniste Lisa Cat-Berro.
Ce festival se déroule dans le cadre des Jeudis Jazz d'Orly, qui proposent depuis début 2012 des concerts hebdomadaires aux voyageurs amateurs de musique, sur une mezzanine de l'aéroport.
Mustapha Toumi, musicien chaâbi est mort
Le compositeur, parolier, militant indépendantiste des années 1950, Mustapha Toumi est décédé dans la nuit de mardi au mercredi à Alger à l'âge de 76 ans.
Peintre, parolier et poète, il est né à Bordj Menaïl le 14 juillet 1937 dans la Casbah d'Alger. Père de 6 enfants, avait milité dans les rangs du Front de libération nationale et participé en 1958 à le radio clandestine La voix de l'Algérie libre et combattante.
Après 1962, il avait pris un temps la direction des affaires culturelles au ministère de l'Information.
Il est le compositeur de la célèbre chanson chaâbi Sob'han Allah Ya Eltif, interprétée pas le créateur du style el-Hadj M'hamed El Anka.
Cette chanson avait été reprise par le fils d'el-Anka, El Hadi Halo au piano, dans le film sur les musiciens de la Casbah d'Alger, El Gusto, de Safia Boulbinez en 2011.
La Sacem conclut un nouveau contrat avec YouTube
La Sacem et YouTube ont conclu un nouveau contrat de trois ans permettant aux auteurs, compositeurs et éditeurs de musique d'être rémunérés pour la diffusion de leurs œuvres sur le site.
Ce contrat qui les lie porte sur l'utilisation du répertoire des membres de la Sacem ainsi que sur le répertoire dit anglo-américain d'Universal Music Publishing International (UMPI).
L'accord, dont les termes sont confidentiels, couvre 127 pays.
Revue de presse musicale du 4 avril 2013
(La Croix) Versions de (p)référence ? Par Philippe Cassard
(France musique) D'une beauté à «Cooper» le souffle !
(Rue 89) « Bloody Daughter » : dans l'intimité de la pianiste Martha Argerich
(Culturebox) 15 heures de bonheur avec le marathon musical de Luxeuil-les-Bains
(20 minutes) Une partition de fausses notes à l'Opéra orchestre
(Le Temps, Québec) Seiji Ozawa: «ce temps supplémentaire m'a été donné par Dieu»
(France Inter) Bruno Procopio, claveciniste et chef d'orchestre
(La Croix) Le chef Louis Langrée passe par Paris
(Ouest France) Ivry Gitlis au festival Consonances de Saint-Nazaire en septembre