Thacher Peter
1651-1727
Baptisé le 18 juillet 1651 à Weymouth, près de Plymouth, Massachusetts, aux États-Unis, mort le 17 décembre 1727 à Milton, près de Norfolk , Massachusetts.
Il est le fils du révérend docteur Thomas Thacher et Elizabeth Thatcher. Il a épousé Theodora Oxenbridge (1659-1697) fille de pasteur, puis Elizabeth Thacher (1667-1727) en secondes noces.
Il est premier pasteur de l'église de Milton.
Écrits relatifs à la musique
An essay preached by several ministers of the gospel for the satisfaction of their pious and consciencious brethren, as to sundry questions and cases of conscience, concerning the singing of Psalms, in the publick worship of God, under the present evangelical constitution of the church-state. Offered to their consideration in the Lord. Printed at the desire of honourable, reverend and worthy persons; to whom it was communicated, in a venerable council of churches, January 30. 1722, 3.
Boston, S. Kneeland for S. Gerrich 1723 (7 exemplaires conservés)

Localisations : US : Ann Arbor, William L. Clements Library - Boston, Mass., Massachusetts Historical Society Library - Boston, Mass., Music Department, Boston Public Library - Cambridge, Mass., Houghton library, Harvard university - New York, N. Y., Music Division, New York Public Library - Providence, R. I. John Carter Brown Library - Worcester, Mass., American Antiquarian Society.

Jean-Marc Warszawski
Novembre 1995-8 octobre 2016
© Musicologie.org
---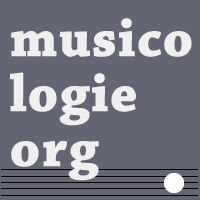 À propos - contact | S'abonner au bulletin | Biographies de musiciens | Encyclopédie musicale | Articles et études | La petite bibliothèque | Analyses musicales | Nouveaux livres | Nouveaux disques | Agenda | Petites annonces | Téléchargements | Presse internationale | Colloques & conférences | Universités françaises | Collaborations éditoriales | Soutenir musicologie.org.
Musicologie.org, 56 rue de la Fédération, 93100 Montreuil. ☎ 06 06 61 73 41.
ISNN 2269-9910.
Lundi 26 Avril, 2021