NassaRre Pablo
1654-1730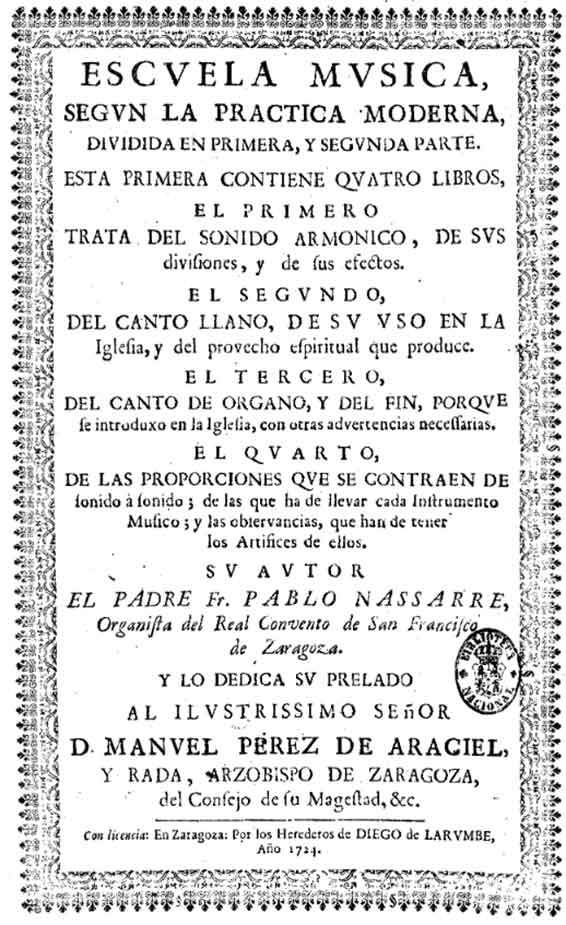 Né en Aragon vers 1654, mort à Saragosse vers 1730.
Peu d'informations biographiques sont parvenues. Aveugle de naissance, il a étudié l'orgue avec Pablo Bruna. Il s'engage chez les Franciscains, peut-être à l'âge de 22 ans, et sert le reste de sa vie au monastère S Francisco de Saragosse.
Une pièce de Pablo Nassarre, Festival Internacional del Organo Histórico de Oaxaca IX.
Œuvres musicales
Arde en incendis de Amor, pour orgue et basse continue.
Tiento, Sanctus versets, pour orgue.
Écrits relatifs à la musique
Escuela musica segun la practica moderna, dividida en primera, y segunda parte. Esta primera contiene quatro libros, el primero trata del sonido armonico, de sus divisiones, y de sus efectos. El segundo, del canto llano de su uso en la iglesia, y del provecho espiritual que produce. El tercero del canto de organo, y del fin, porque se introduxo en la iglesia, con otras advertencias necessarias. El quarto, de las proporciones que se contraen de sonido à sonido, de las que ha de llevar cada instrumento musico, y las obervancias, que han de tener los artifices de ellos. Su autor el padre fr. Pablo Nassarre [...]
Zaragoza, herederos de Diego de Larumbe 1724 [v. 2: Segunda parte de la escuela [...] Zaragoza, heredos de Manual Roman] (32 exemplaires conservés)

Localisations : B : Bruxelles, Bibliothèque du conservatoire royal de musique - Bruxelles, Bibliothèque Royale - Liège, Bibliothèque du conservatoire
D : Berlin, Deutsche Staatsbibliothek - Heidelberg, Musikwissenschaftliches Seminar der Universität - München, Musiksammlung der Bayerische Staatsbibliothek
E : Barcelona, Bibl. Central de Cataluña - Calahorra, Catedral - Madrid, biblioteca de la Real Academia de Bellas Artes de San Fernando
F : Paris, Bibliothèque de France, département de la musique - Paris, Bibliothèque nationale - Solesmes, Abbaye St. Pierre
GB : Cambridge, King's College - Glasgow, Euing Musical library - London, British Museum - Tenbury, St. Michael's College
NL : Den Haag, Gemeente Museum - P: Lisboa, Biblioteca Nacional - US : Ann Arbor, Mich., William L. Clements Library University of Michigan - Austin, Tex., The University of Texas - Berkeley, Calif., Music Library University of California - Chicago, Ill. Newberry library - Iowa City, Ia., Music Library, State University of Iowa - Lexington, Ky., School of Music Library, University of Louisville - New Haven, Conn., School of Music Library - New York, N. Y., Hispanic Society of America - New York, N. Y., Music Division, New York Public Library - Rochester, N.Y., Sibley Music Library, Eastman School of Music - Urbana, Ill., University of Illinois Lirary - Washington, D.C., Music Division, Library of Congress.
Fragmentos musicos. Reglas generales, y muy necessaria para canto llano, canto tratado de organo, contrapunto, y composicion. Compuesto por f. Pablo Nassare
Madrid, don Joseph de Torres 1683 (3 exemplaires conservés)
Madrid, don Joseph de Torres 1700 [Repartidos en quatro tratados [...] y aora nuevamante añadido el yltimo tratado por el mismo autor; y junta-menter exemplificados con los caracteres musicos de que carecia] (22 exemplaires conservés).

Localisations : B : Bruxelles, Bibliothèque Royale
D : Berlin, Deutsche Staatsbibliothek - Wolfenbüttel, Her-zog August Bibliothek - E : Barcelona, Bibl. Central de Cataluña - Berlin, Universitätsbibliothek der Freien Univ.
F : Paris, Bibliothèque de France, département de la musique
GB : Glasgow, Euing Musical library - London, British Museum - Tenbury, St. Michael's College
I : Bologna, Biblioteca del Museo Bibliografico Musicale
P : Coimbra, Bibl. pública
US : Ann Arbor, Mich., William L. Clements Library University of Mich-igan - Austin, Tex., The University of Texas - Berkeley, Calif., Music Library University of California - Chi-cago, Ill. Newberry library - Lexington, Ky., School of Music Library, University of Louisville - New York, N. Y., Hispanic Society of America - New York, N. Y., Music Division, New York Public Library - Rochester, N.Y., Sibley Music Library, Eastman School of Music - Washington, D.C., Music Division, Library of Con-gress.

FORRESTER DONALD WILLIAMS, Pablo Nassarre's Fragmentos Musicos: Translation and Commentary (thèse). University of Georgia 1969 [331 p.]