Grassineau James
v. 1715-1769.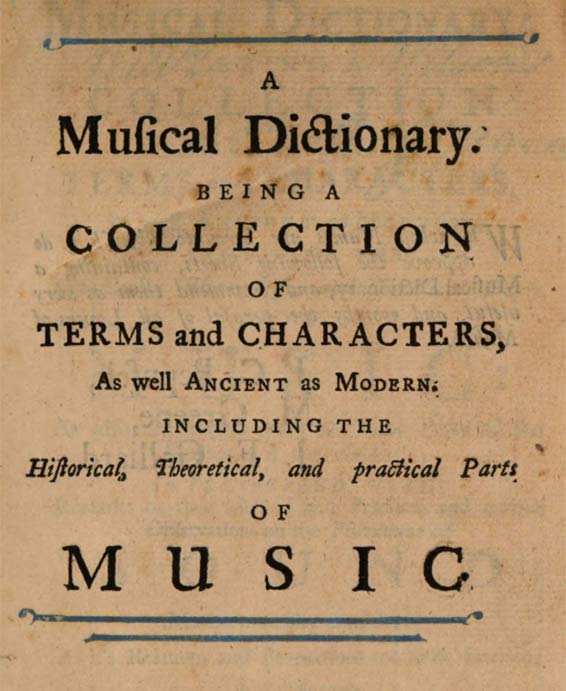 James Grassineau est né à Londres vers 1715 de parents français. Il a d'abord été chimiste chez Godfrey, Southampton Street, Strand, puis secrétaire de Pepusch pour lequel il a traduit le Dictionnaire de musique de Brossard. Il semble cependant qu'il est augmenté d'autres sources.
Écrits relatifs à la musique

A Musical dictionary; being a collection of terms and characters, as well ancients as modern; including the historical, theoretical, and practical parts of music [...] the whole carefully abstracted from the best authors in the Greek, Latin, In, French and English languages. By James Grassineau
London, J. Wilcox 1740 (61 exemplaires conservés)
London, J. Robson 1769, A new edition which is added an appendix, selected from the dictionaire de musique of M. Rousseau. (17 exemplaires conservés)

A : Wien, Österreichische Nationalbibliothek - Wien, Universitätsbibliothek
B : Bruxelles, Bibliothèque Royale - Liège, Bibliothèque du conservatoire - C : Ottawa, National Library
D: Berlin, Deutsche Staatsbi-bliothek - Hamburg, Staats- und Universitätsbibliothek, Musikabteilung - München, Musiksammlung der Bayerische Staatsbibliothek - Tübingen, Musikwissenschaftliches Institut der Univ.
E : Madrid, Biblioteca Nacional - F : Paris, Bibliothèque de France
GB: Cambridge, Fitzwilliam Museum - Cambridge, Univ. Music Club - Cambridge, King's College - Cambridge, Pendlebury Library - Cambridge, Trinity College - Cam-bridge, University Library - Edinburgh, Reid library - London, Royal Academy of Music - London, British Museum - London, Royal College of Music - Manchester, Public Library - Oxford, Bodleian Library - Tenbury, St. Michael's College
NL: Den Haag, Gemeente Museum
S : Stockholm, Kungl. Musikaliska Aka-demiens Bibl.- Stockholm, Musikhistoriska museet
US: Albany, N. Y., New-York State Library - Ann Arbor, Mich., William L. Clements Library University of Michigan - Boston, Mass., Music Department, Boston Pu-blic Library - Boston, Mass., Boston Atheneum Library - Berkeley, Calif., Music Library University of Califor-nia - Bryn Athyn, Pa. Academy of the new Church Library - Chicago, Ill. Newberry library - Chapel Hill, N.C., Music Library, University of North Carolina - Detroit, Mich., Detroit Public Library - Detroit, Mich., Wayne state University Library - Denton, Tex., North Texas State University Library - Evanston, Ill., Northwestern Univ. - Flushing, N. Y., Queen's College library - Ithaca, N.Y., Music Library, Cornell Univ. - Iowa City, Ia., Music Library, State University of Iowa - Los Angeles, Calif., William Andrews Clark Memorial Library Uni-versity of California - Lexington, Ky., School of Music Library, University of Louisville - New Brunswick, N. J., Rutgers, The State University Library - New Haven, Conn., School of Music Library - New Orleans, La., Tulane Univ. - New York, N.Y., Music Library, Columbia Univ. - New York, N. Y., Music Division, New York Public Library - Pittsburgh, Pa., Carnegie Library of Pittsburgh - Pittsburgh, Pa., University of Pittsburgh Library - Philadelphia, Pa., Library Company of Philadelphia - Poughkeepsie, N. Y., Vassar College library - Providence, R. I. John Carter Brown Library - Rochester, N.Y., Sibley Music Library, Eastman School of Music - San Francisco, Calif., The Sutri Library - Stanford, Calif., Music Library, Stanford University - Urba-na, Ill., University of Illinois Lirary - Washington, D.C., Music Division, Library of Congress - Washington, D.C., Folger Shakespeare Library - Waco, Texas, Baylor University Library

New York, Broude Brothers 1966

 Jean-Marc Warszawski
Dictionnaire des écrits relatifs à la musique
Novembre 1995-21 mars 2019
-
© Musicologie.org 2019.
À propos - contact
|
S'abonner au bulletin
|
Biographies de musiciens
|
Encyclopédie musicale
|
Articles et études
| La petite bibliothèque
|
Analyses musicales
|
Nouveaux livres
|
Nouveaux disques |
Agenda
|

Flux RSS
|
Petites annonces
|
Téléchargements
|
Presse internationale
|
Colloques & conférences
|
Universités françaises
|
Collaborations éditoriales
|
Soutenir musicologie.org.
Musicologie.org, 56 rue de la Fédération, 93100 Montreuil ☎ 06 06 61 73 41
ISNN 2269-9910
Mercredi 20 Mars, 2019