Bartholin Thomas
1616-1680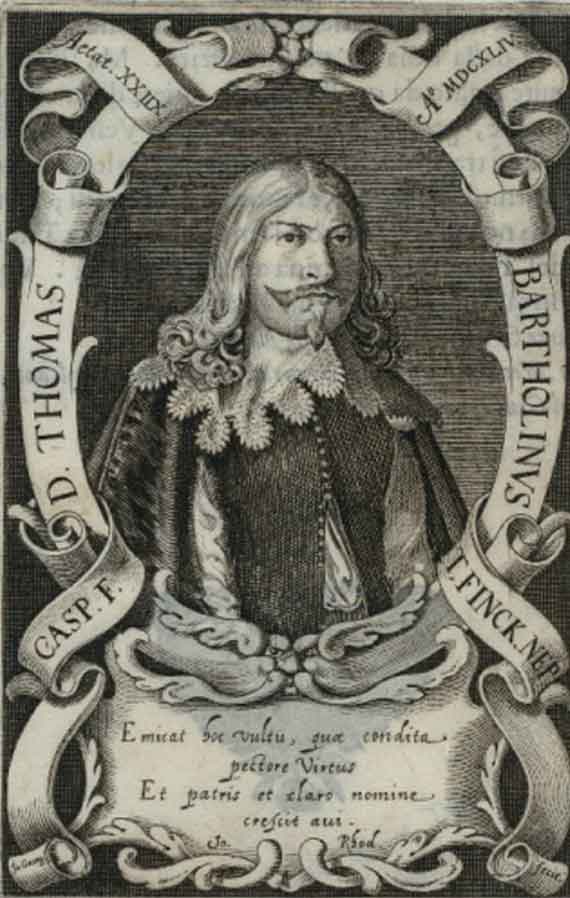 Né le 20 octobre 1616 à Copenhague, mort le 4 décembre 1680.
Médecin, mathématicien et théologien.
Docteur en médecine, professeur d'anatomie. Comme son père, Caspar Bertholin, il est médecin de la cour. Il a publié de nombreux ouvrages de médecine à Paris, Rome et Amsterdam. Son frère Erasmus, professeur de mathématiques et de médecine à Copenhague à joué un grand rôle dans l'élaboration de la théorie de la lumière (découverte de la double réfraction). En 1648, il est professeur d'anatomie à Copenhague (il a Stenon1 comme élève). En 1671, il est bibliothécaire de l'Université et en 1675, conseiller d'état
__________
1. Steensen Niels (1638-1686) dit Sténon ou Stenonis Nicolas. Anatomiste de renom. Découvertes sur la glande parotide (canal de Sténon). Il œuvre dans toute l'Europe, avec de prestigieux collègues (Malpighi). Publie en Italie son Elementorum myologiae specimen. Vers la fin de sa vie, il revient en Italie et entre dans les ordres. Il est évêque à Münster en 1676.
Écrits relatifs à la musique
Caspari Bartholini Thom. fil. De Tibiis veterum et earum antiquo usu libri tres. Ad eminentiss. principen cardinalen Sigismund. Chigi
Roma, Paolo Moneta 1677 (47 exemplaires conservés)
Amsterdam, Henr. Wetsten 1679 (85 exemplaires conservés).

A : Heiligenkreuz, Zisterzienserstift - Wien, Gesellschaft der Musikfreunde - Wien, Österreichische Nationalbibliothek
B : Bruxelles, Bibliothèque du conservatoire royal de musique - Bruxelles, Bibliothèque Royale - Liège, Bibliothèque du conservatoire
C : Toronto, University of Toronto Library
CH : Zürich, Zentralbibliothek (und Bibliothek der Allgemeinen Musikgesellschaft)
CS : Praha, Hudební oddêlení národního Musea (Département de la musique du Musée national)
D: Berlin, Bibl. zum der Hochschule für Bildende Künste - Berlin, Staatsbibliothek PrK. Musikabteilung (ehem. In Marburg und Tübingen) - Coburg, Landesbibliothek - Darmstadt, Hessische Landes- und Hochschulbibliothek, Musikabteilung - Dresden, Sächsische Landesbibliothek - Eisenach, Bach-Museum - Erlangen, Universitätsbibliothek - Eutin, Kreisbibliothek - Frankfurt am Main, Stadt- und Universitätsbibliothek, Musik- und Theaterabteilung, Manskopfsches Museum - Freiburg i. B., Bibliothek des Collegium Borromaeum - Friburg i. Mu-sikwissenschaftliches Seminar der Universität - Göttingen, Niedersächsische Staats- und Universitätsbibliothek - Halle/Saale, Universitätsbibliothek - Hannover, Niedersächsische Landesbibliothek - Heidelberg, Musikwissenschaftliches Seminar der Universität - Heidelberg, Universitätsbibliothek - - Jena, Universitätsbibliothek - Kassel, Bibliothek des Bärenreiter-Verlags - Köln, Universität-und Stadtbibliothek - Leipzig, Bibliothek des Musikwissenschaftlichen Instituts - Leipzig, Musikbibliothek - Lüneburg, Ratsbücherei und Stadtarchiv - Mainz, Bibliothek des Bischöflichen Priesterseminar - Mainz, Stadtbibliothek - München, Bibliothek der Staatlichen Hochschule für Musik - München, Bibliothek des Musikwissenschaftlichen Seminars der Univ. - Münster, Universitätsbibliothek - Regensburg, Proskesche Musikbibliothek - Rostock, Universitätsbibliothek - Schleusingen, Heimatmuseum - Tübingen, Universi-tätsbibliothek - Weimar, Thüringische Landesbibliothek - Wiesbaden, Hessische (früher Nassauische) Landesbibliothek - Wolfenbüttel, Herzog August Bibliothek - Worms, Stadtbibliothek
DK : København, Musikhistoriske Museum
E : Madrid, Biblioteca Nacional
F : Besançon, Bibliothèque municipale - Marseille, Bibliothèque municipale - Paris, Bibliothèque de France - Paris, Bibliothèque de l'Opéra - Paris, Bibliothèque Mazarine - Paris, Bibliothèque Sainte-Geneviève - Strasbourg, Bibliothèque Nationale et universitaire
GB : Cambridge, University Library - Edinburgh, Signet Library - Glasgow, Euing Musical library - London, British Museum - Manchester, John Rylands Library - Oxford, Bodleian Library - Tenbury, St. Michael's College
I : Arezzo, Bibl. della città di Arrezzo (già della Fraternità dei Laici) - Bergamo, Biblioteca Civica - Biblioteca comunale Ariostea, Ferrara - Bologna, Biblioteca del Conservatorio (Liceo Musicale ; oggi civico Museo Bibliografico Musicale) - Firenze, Biblioteca del Conservatorio - Modena, Biblioteca Estense - Montecassino, biblioteca dell'Abbazia - Napoli, Biblioteca del Conservatorio - Piacenza, Biblioteca comunale - Venezia, Biblioteca nazionale Marciana
NL: Den Haag, Gemeente Museum - Den Haag, Koninklijke bibliotheek. - Den Haag, Rijksmuseum Meermanno-Westreenianum - Groningen, Universiteitsbibl. - Leiden, Universiteitsbibl. - Utrecht, Instituut voor Muziekwetenschap der Rijksuniv.
PL : Gdansk, Biblioteca polskiej akademii Nauk
S : Hälsingborg, D. Fryklung samling - Linköping, Stifts- och Landsbibli. - Stockholm, Musikhistoriska museet - Uppsala, Universitetsbiblioteket.
US: Ann Arbor, Mich., William L. Clements Library University of Michigan - US:Boston, Mass., New England Conservatory of Music Library - Chicago, Ill. Newberry library - Iowa City, Ia., Music Library, State University of Iowa - New Haven, Conn., School of Music Library - New York, N. Y., Music Division, New York Public Library - Philadelphie, Pa., University of Pennsylvania Library - Rochester, N.Y., Sibley Music Library, Eastman School of Music - Seattle, Wash., Music Mibrary, University of Washington - Washington, D.C., Music Division, Library of Congress - Boston, Mass., Music Departement, Boston Public Library - Boston, Mass., Boston Atheneum Library - US: Boston, Mass., Boston Atheneum Library - Boston, Mass., New England Conservatory of Music Library - Cambridge, Mass., Eda Kuhn Loeb Music Library - Chapel Hill, N.C., Music Library - Chicago, Ill. Newberry library - Chicago, Ill., University of Chicago Library - Hanover, N.H., Baker Library, Dartmouth College - Lexington, Ky., School of Music Library, University of Louisville - Minneapolis, Minn., The University of Minnesota - New Haven, Conn., School of Music Library - New York, N.Y., Music Mibrary, Columbia Univ. - Philadelphia, Pa., Library Company of Philadelphia - Rochester, N.Y., Sibley Music Library, Eastman School of Music - Selinsgrove, Penn., Susquehanna Univ. - Washington, D.C., Music Division, Library of Congress.
---
---
Autres écrits
Anatomia, ofte, Ontledinge des menschelicken lichaems [...] door Dr. Thomas Bartholyn [...] onlangs uyt sijn Vaders, als oock vele nieuwe schrijvers, en eygene ondetvindinge, inþt Latijn tþsamen ge-stelt; hier zijn by gevoeght Tvvee brieven van Joh. Walaeus, raeckende de beweginge des gijls ende bloets; als mede, een kort verhael, van een nieuvv gevonden vvegh des gijls naer het herte; alles met ontrent 80. schoone kopere figuren verçiert, de meeste naer het leven geteyckent; ten dienste en nootsaeckelickheyt der Nederlandtsche heelmeesters ende liefhebbers van de kennisse des menschen lichaems; in de Nederduytsche spraecke overgeset, door Mr. Thomas Staffard. Tot Dordrecht, Voor Iacobus Savry. 1656
Anatomia [...] Thomae Bartholini Casp. f. Anatomia: ex Caspari Bartholini parentis institutionibus, omniumque recentiorum & propriis observationibus: tertiùm ad sanguinis circulationem re-formata: cum iconibus novis accuratissimis: accessit nuic postremae editioni Th. Bartholini ap-pendix de lacteis thoracicis & vasis lymphaticis. Hagae-Comitis, Adriani Vlacq 1655
Antiquitatum veteris pverperii synopsis a filio Casparo Bartholino commentario illustrata. Amste-lodami, J. H. Wetstenii 1676
Cista medica Hafniensis [...] Cista medica Hafniensis, eller, Det Medicinske fakultets brevkiste: som er fuld af forskelligartede red, kure, sjældne tilfælde, biografier over københavnske læger og andere ting som vedrører anatomien, botanikken samt kemien [...] Dernæst følger En kortfattet beskrivelse af Anatomihuset i København [...] forfattet af Thomas Bartholin. Udgivet peny, af Niels W. Bruun og Hans-Otto Loldrup. Copenhagen, Dansk farmaceutforening 1982 [279 p., ill., 30 cm]
De armillis veterum schedion. Amstelodami, J. H. Wetstenii 1676
De lacteis thoracicis [...] Thomae Bartholini doctoris et professoris Regii De lacteis thoracicis: in homine brutisque nuperrimè obseruatis: historia anatomica. Parisiis, Mathurini du Puis 1653
De latere Christi aperto dissertatio [...] Thomae Bartholini Casp. f. De latere Christi aperto dissertatio [...] accedunt Cl. Salmasii, & aliorum, De Cruce epistolae. Lugduni Batavorum, Ioannis Maire 1646
De peregrinatione medica Th. Bartholini De peregrinatione medica [...] Hafniae, Literis Christiani Weringii [...] Sumpt. Danielis Paulli 1674
On diseases in the Bible, a medical miscellany, 1672 translated from the Latin by James Willis; edited ith an introduction by Johan Schioldann-Nielsen and Kurt Sørensen. Copenhagen, Danish National Library of Science and Medicine 1994
De bibliothecae incendio dissertatio ad filios [...] El incendio de la biblioteca. Valencia, Editorial Catalia 1949; On the burning of his library, and On medical travel (trad. Charles D. O'Malley). Lawrence, University of Kansas Libraries 1961
Th. Bartholini De cometa: consilium medicum, cum monstrorum nuper in Dania natorum historia. Hafniae, Matthiam Godicchenium, Petr. Haubold 1665
Thomæ Bartholini Anatome ex omnium veterum recentiorumque observationibus. Imprimis institu-tionibus b. m. parentis Caspari Bartholini, ad circulationem Harvejanam, et vasa lymphatica. Lugduni Batavorum, Hackiana MDCLXXIII
Thomæ Bartholini De unicornu observationes novæ. Secunda editione auctiores & emendatiores editæ à filio Casparo Bartholino. Amstelædami, JHenr. Wetstenium MDCLXXVIII
Viri doctrissimi Thomæ Bartholini De libris legendis dissertationes, quas propter raritatem ac præs-tantiam publicæ luci restituit, & De vana librorum pompa præfatus est Joh. Gerh. Meuschen. Hagae-Comitum, Nicolaum Wildt CI_C I_C CCXI
Bibliographie
ADAM CHARLES & MILHAUD GASTON,

Correspondance de René Descartes.

Paris, Alcan 1936-1963 (8 v.); Liechtenstein, Nendeln 1970
GARBOE AXEL (*1886),

Thomas Bartholin; et Bidrag til dansk Natur- og Laegevidenskabs Historie i det 17. Aarhundred

e. København, Munksgaard 1949-1950
RIOLAN JEAN (1580-1657),

Opuscula nova anatomica: iudicium nouum de venis lacteis tam mesentericis qu¿m thoracicis, aduersus Th. Bartholinum: lymphatica vasa Bartholini refutata: Animaduersiones secundae ad anatomiam reformatam Bartholini: eiusdem Dubia anatomica de lacteis thoracicis resoluta: hepatis funerati & ressuscitati vindiciae. Riolano.

Parisiis, Apud viduam Mathurini du Puis 1653
RODE JOHAN (1587-1659),

De acia dissertatio ad Cornelii Celsi mentem qua simul universa fibulae ratio explicatur Joannis Rhodii De acia dissertatio ad Cornelii Celsi mentem qua simul universa fibulae ratio explicatur

. Hafniae, Matthiae Godicchenii, Petri Hauboldi 1672
WALAEUS JOHANNES (1604-1649),

Zwei Briefe über die Bewegung des Chylus und Blutes, an Thomas Bartholin, Sohn des Caspar, 1640; übers. und erläutert von Bernward Josef Gottlieb. Leipzig, J. A. Barth 1942.

Leipzig, Zentralantiquariat der DDR 1968
Lexicographie
Allgemeiner Porträt-Katalog. Verzeichnis einer Sammlung von 30 000 Porträts des sechszehnten bis neunzehnten Jahrhundert [...] mit biographischen Notizen

. Hamburg, Hans Dietrich v. Diepenbroick-Grüter, 1931; Hildesheim, Olms 1967
BAYLE ANTOINE LAURENT JESSÉ (1799-158),

Biographie médicale par ordre chronologique

. Paris, Adolphe Delahays, 1855 [2 v.]; Amsterdam, N. V. Boekhandel & Antiquariaat B. M. Israël 1967
BERTHELOT ANDRÉ (1862-1838), DERENBOURG HARTWIG (1844-1908) et al.,

La grande encyclopédie.

Paris, H. Lamirault 1885-1901; Fromann, Bad Cannstatt 1966
Bibliothèque Nationale de Paris,

Catalogue de la collection des portraits français et étrangers conservés au département des estampes

. Georges Rapilly, Paris 1866-1911 (la suite, non imprimée est consultable à la bibliothèque)
BRUSONI GIROLAMO (1610-?),

Le Glorie de gli Incogniti O vero Gli huomini illustri dell'accademia de' signori Incogniti di Venetia

. Venetia, Francesco Valranese 1647
COULSON GILLISPIE CHARLES,

Dictionary of Scientific Biography.

New York, Charles Scribner Sons 1970-1971

Dankst biografisk leksikon

. Grundlagt af C. F. Bricka. København, J. H. Schultz 1933-1944 (27 v.)
DOBSON JESSIE,

Anatomical eponyms being a biographical dictionary

. London, Baillière, Tindall and Cox 1946
DU PIN LOUIS ELLIES (1657-1719),

Table universelle des auteurs ecclésiastiques

. André Pralard, 1704 [4 v.]; Farnborough, Gregg 1970
ECKSTEIN FRIEDRICH AUGUST (1810-1885),

Nomenclator philologorum.

Leipzig, B. G. Teubner 1871

Enciclopedia universal ilustrada europeo-americana

[70 v.]. Madrid, Espasa-Calpe 1907-1930
FERCHL FRITZ,

Chemisch-Pharmazeutisches Bio- und Bibliographikon.

Mittenwald, Arthur Nemayer 1938 [2 v. en 1, 26 cm]
FREHER PAUL,

Theatrum vivorum eruditione clarorum.

Nivibergae, Johannes Hofmanni & Andrea Knorzic 1688
HAGEN AUGUST HERMANN,

Biblioteca entomologica

. Leipzig, Wilhelm Engelmann 1862
HIRSCH AUGUST (1817-1894),

Lexikon der Hervorragenden Ärzte

. Berlin, Leipzig, Wien, Urban & Schwarzenberg 1884-1888; 1929-1934 [5 v.]
HOEFER JEAN-CHRÉTIEN FERDINAND (1811-1878, dir.),

Nouvelle biographie générale

(universelle) [46 v.]. Paris, Firmin-Didot 1853-1866; Rosenkilde og Bagger, Cøbenhavn 1963-1969
HORN WALTHER (1871-1939),

Index litteraturae entolomologicae

. Berlin-Dahlem 1928-1975
JÖCHER CHRISTIAN GOTTLIEB (1694-1758),

Allgemeines Gelehrten-Lexicon

. Leipzig 1750-1819; 1897; Hildesheim, Olms 1960; 1998
JOURDAN ANTOINE JACQUES-LOUIS (1788-1848),

Dictionnaire des sciences médicales. Biographie médicale

. Paris, C. L. F. Panckoucke 1820-1825 [7 v.]
MEISEN WALDEMAR (éd.),

Proeminent Danish Scientists through the Ages with facsimile from their works.

Copenhagen, Levin and Munksgaard; London, Humphrey Milford 1932
MELZI GAETANO (1783-1851),

Dizionario di opere anonime psedonime di scrittori italiani. Milano, coi Torchi di Giacomo Pirola 1848-1888

[4 v.]; New York, Burt Franklin, Bibliographical and References Series (23) 1960
MICHAUD LOUIS-GABRIEL (1773-1858),

Biographie universelle ancienne et moderne

[45 v.]. Paris, A. Thoisnier, Déplaces & Michaud 1854-1865
MORERI LOUIS (1643-1680),

Le grand dictionnaire historique

[10 v.]. Paris, Libraires associés 1759
NICÉRON JEAN-PIERRE (1685-1738),

Mémoires pour servir à l'histoire des hommes illustres dans la République des lettres, avec un catalogue raisonné de leurs ouvrages

. Paris, Briasson 1727-1745 (44 v.)
OETTINGER EDUART MARIA (1808-1872),

Bibliographie biographique universelle

[2 v.]. Bruxelles, Stienon 1854; Hildesheim 1971
POGGENDORFF JOHANN CHRISTIAN (1796-1977),

Biographish-literarisches Handwörterbuch zur Geschichte der exacten Wissenschaften.

Leipzig, Johann Ambrosius Barth 1863 [en devenir avec changements d'éditeurs]
PÖKEL WILHELM,

Philologisches Schriftsteller-Lexikon

. Leipzig, A. Krüger 1882; Darmstadt, Wissenschaftliche Buchgesellschaft 1966
PRITZEL GEORG AUGUST (1815-1874),

Thesaurus literaturae botanicae.

Lipsiae, F. A. Brockhaus 1872; Milano, Görlich 1850
SAXE CHRISTOPH GOTTLOB (1714-1806),

Christophori Saxi Onomasticon literarium.

Traiecti ad Rhenum, G. T. à Paddenburg 1775-1803 [8 v., 22 cm]
SENEBIER JEAN (1742-1809),

Histoire littéraire de Genève.

Genève, Barde, Manget 1786 [3 v.]
SINGER HANS WOLFGANG (*1867),

Allgemeiner Bildniskatalog

. Leipzig, Karl W. Hiersemann 1930-1936 [14 v., 28 cm]; 1937-1938 [5 v. 27 cm]
STIRLING WILLIAM (1851-1932),

Some apostles of physiology being an account of their lives and labours

. London, Waterlow & sons 1902
WHITROW MAGDA (éd.),

Isis cumulative bibliography.

London, Mansell 1971
WORM JENS (1716-1790, éd.),

Forsøg til et lexicon over danske, norske og islandske herde maend, som ved trykte skrifter have giort sig bekiendte

. Helsingøer, det Kongelig bogtrykkerie 1771-1784 [4 v.]
ZELLER OTTO (éd.),

Internationale Bibliographie der Zeitschriftenliteratur aus allen Gebieten des Wissens

. Osnarbrück, Felix Dietrich 1975
Jean-Marc Warszawski
Novembre 1995-30 mars 2008
© Musicologie.org
---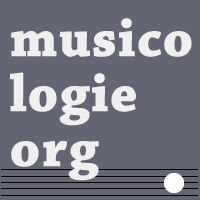 À propos - contact | S'abonner au bulletin | Biographies de musiciens | Encyclopédie musicale | Articles et études | La petite bibliothèque | Analyses musicales | Nouveaux livres | Nouveaux disques | Agenda | Flux RSS | Petites annonces | Téléchargements | Presse internationale | Colloques & conférences | Universités françaises | Collaborations éditoriales | Soutenir musicologie.org.
Musicologie.org,
56 rue de la Fédération,
93100 Montreuil.
☎ 06 06 61 73 41.
ISNN 2269-9910.
Jeudi 15 Octobre, 2020