édition de vendredi 9 décembre 2022 —
Musical Interpretation and Performance from the XIXth to the XXIst Century
Bergamo, 10-12 November 2023
Fondazione MIA (Sala Locatelli)
Website
Keynote Speaker: Rémy Campos (Conservatoire de Paris / HEM – HES-SO).
All proposals should be submitted by email no later than 14 April 2023.
Organised by Centro Studi Opera Omnia Luigi Boccherini, Palazzetto Bru Zane, in collaboration with, IAM – Italian Institute for Applied Musicology Fondazione MIA.
The programme committee encourages submissions within the following areas, although other topics are welcome:
Musical work between text and performance
Creation and interpretation
Cultural elements beyond the performance
Performance practice, Historical Periods and Interpretation
Technical skills and musical interpretation
Performance and Improvisation
Musical experimentation and Happenings
Musical Genres and Performance
Interpretation and Social Identity
The relationship between performer and audience in the creation of a musical meaning
Musical interpretation and musical narrative
Thought and Gesture
Types of Reproduction and the Development of Musical Recording
The influence of recording on Composition and Concerts
The official languages of the conference are English, French, Italian. Papers selected at the conference will be published in a miscellaneous volume. Papers are limited to twenty minutes in length, allowing time for questions and discussion. Please submit an abstract of no more than 500 words and one page of biographical information.
For any additional information, please contact Dr. Massimiliano Sala
---
---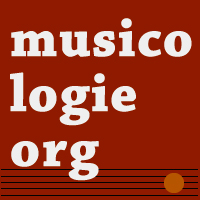 À propos - contact | S'abonner au bulletin | Biographies de musiciens | Encyclopédie musicale | Articles et études | La petite bibliothèque | Analyses musicales | Nouveaux livres | Nouveaux disques | Agenda | Petites annonces | Téléchargements | Presse internationale | Colloques & conférences | Collaborations éditoriales | Soutenir musicologie.org.
Musicologie.org, 56 rue de la Fédération, 93100 Montreuil. ☎ 06 06 61 73 41
ISNN 2269-9910
Mercredi 14 Décembre, 2022