édition de vendredi 9 décembre 2022 —
arts/research/teaching - exploring the role of the artist/educator as artistic researcher
14-15 March 2023, Oslo
Deadline for abstracts: 15 January 2023
Website
Email
Artistic research is knowledge production. And for new knowledge to be applied it must be disseminated, experienced, and turned into embodied knowing. As practitioners, researchers, and educators we ask ourselves daily: how do we teach art? As practitioners we draw from our own experiences. We enter a productive exchange with what we perceive as our own short-comings and doubts and we explore creative notions such as uncertainty, improvisation, and collaboration. As researchers we oscillate between artistic and academic ways of contemplating through and with art. We embrace the centrality of practice to artistic research, and we are not afraid of what Henrik Borgdorf has called "unfinished thinking" (2012). As educators, however, we face a variety of practical, epistemological, socio-political, ideological, ethical, and institutional challenges. Teaching art requires us to constantly negotiate dichotomies of the general and the specific, addressing art's manifold provocations and contradictions, as well as facilitating a fruitful dialogue between existing practical and theoretical paradigms.
Estelle Barrett (2010) frames artistic research as "a new species of research", invoking the term "generative" as a third alternative to quantitative and qualitative forms. Teacher and researcher Brad Haseman has argued that an artwork embodies research findings which are symbolically expressed, though not expressed through numbers and words (2006). Yet, it is numbers and words we encounter most in the institutionalized contexts in which we are supposed to teach art and generate knowledge about creative and artistic processes.
How do we reconcile the demands of institutions of higher education – including quality assurance and economical restrictions - with the task of encouraging students to critical thinking as well as indulging in free-thinking creative processes? Furthermore, how do we respond to the criticism of elitism and academization within the fields of higher art education? How can we ensure, develop, and strengthen the societal benefits and relevance of teaching art against the backdrop of an increasingly neoliberalist logic? And how do we respond to the challenges of the so-called culture wars in our globalized societies?
And, last but by no means least, how do we asses and respond to the increasingly varying states of crisis experienced by teachers and students alike?
---
---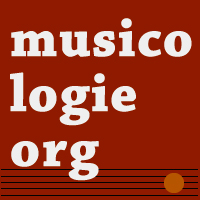 À propos - contact | S'abonner au bulletin | Biographies de musiciens | Encyclopédie musicale | Articles et études | La petite bibliothèque | Analyses musicales | Nouveaux livres | Nouveaux disques | Agenda | Petites annonces | Téléchargements | Presse internationale | Colloques & conférences | Collaborations éditoriales | Soutenir musicologie.org.
Musicologie.org, 56 rue de la Fédération, 93100 Montreuil. ☎ 06 06 61 73 41
ISNN 2269-9910
Mercredi 14 Décembre, 2022