What does Democracy Sound Like Music and Political : Democratisation in Late Twentieth Century
18-19 June 2020, University of Huddersfield
Full Call for Papers is available
Convenors: Igor Contreras Zubillaga (University of Huddersfield) and Robert Adlington (University of Huddersfield)
Keynote speaker: Marina Frolova-Walker (University of Cambridge)
This event aims to innovatively question how musical practices formed ways of imagining democracy in the democratic transitions that took place after Portugal's 'Carnation Revolution' in 1974 –  what Huntington (1991) called the 'third wave' of democratisation, which involves  more than 60 countries throughout Europe, Latin America, Asia, and Africa.
Rather than studying  music's diverse deployments within these political  contexts  (music 'in' transitions to democracy),  these study days  place the emphasis upon ways in which music embodies  democratisation  processes and  participates in the wider social struggle to define freedom and equality for the post-authoritarian era  (hence the 'and'  in the title of the event).
How did musical practices instantiate ideas of democracy in these political contexts? Inversely,  how did such democratic values inform musical practice? How did musicians negotiate between creative autonomy and social responsibility? And more broadly, what is the role of culture in a transition to democracy?
We invite proposals from scholars working in any discipline for papers exploring these and related questions in relation to any musical practice. Papers will be 30-minutes in length followed by 15 minutes of
discussion time, to enable the fullest exchange. Please submit proposals (250-300 words) to I.ContrerasZubillaga -at- hud.ac.uk by the deadline Friday 31 January 2020.
Full Call for Papers is available
© musicologie.org 2018
---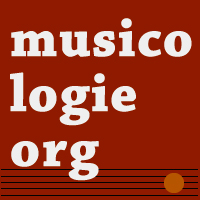 À propos - contact | S'abonner au bulletin | Biographies de musiciens | Encyclopédie musicale | Articles et études | La petite bibliothèque | Analyses musicales | Nouveaux livres | Nouveaux disques | Agenda |

Flux RSS | Petites annonces | Téléchargements | Presse internationale | Colloques & conférences | Universités françaises | Collaborations éditoriales | Soutenir musicologie.org.
Musicologie.org, 56 rue de la Fédération, 93100 Montreuil
☎ 06 06 61 73 41
ISNN 2269-9910