Sounding Spaces
February 28-29, 2020, Yale University
Deadline for Submissions: December 4, 2019
Website
Yale University, Department of Music, Graduate School of Arts and Science
Keynote Speaker: Kwami Coleman (NYU), Workshop: Daphne Brooks (Yale)
The organizing committee of the Yale Graduate Music Symposium welcomes abstracts on the topic of "Sounding Spaces." Intersections of sound and space reveal some of the processes through which the two co-produce one another; whether through shifting behavioral codes implicit in the soundscapes of public and private spaces; the ways in which people throughout history have charted human difference through sonic territories; spatial metaphors that shape understandings of sound; or ideas of past, present, and future that manifest through sound, organizing modes of self-fashioning in social space. Sounding spaces are sites for both naturalizing and contesting politics of identity, alterity, and cultural power. We hope that this conference will foster a rich exchange of critical perspectives on the theme by bringing together graduate students representing a variety of intellectual disciplines and backgrounds.
We welcome submissions from all graduate students engaged in research on music and sound; we look forward to hearing from students of any discipline within the humanities and social sciences. Formats for presentation 20-minute papers or audiovisual presentations with 10 minutes for discussion, and 30-minute composers' colloquia, performances, or lecture-recitals, with 15 minutes for discussion.
All proposals must be submitted electronically via email to ygms -at- yale.edu with "YGMS Abstract Submission" as the subject field. The body of the email should contain:
The author's name, contact information, and academic affiliation
A list of any audio-visual requirements
The PDF file as an attachment with
-Title
-Abstract of no more than 300 words
-Where appropriate, links to relevant sound recordings, scores, or other supplementary materials
Please refer to the website campuspress.yale.edu/ygms for further information and email ygms -at- yale.edu with any questions.
© musicologie.org 2018
---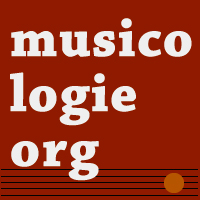 À propos - contact | S'abonner au bulletin | Biographies de musiciens | Encyclopédie musicale | Articles et études | La petite bibliothèque | Analyses musicales | Nouveaux livres | Nouveaux disques | Agenda |

Flux RSS | Petites annonces | Téléchargements | Presse internationale | Colloques & conférences | Universités françaises | Collaborations éditoriales | Soutenir musicologie.org.
Musicologie.org, 56 rue de la Fédération, 93100 Montreuil
☎ 06 06 61 73 41
ISNN 2269-9910