Barber Samuel (Osmond), né à West Chester ((Pennsylvanie), le 9 mars 1910 — mort à New York, la 23 janvier 1981.
Issu d'un milieu aisé, son père est médecin. À l'âge de sept ans, il se lance dans la composition d'une opérette « The Rose », sur un livret de la cuisinière de la famille. Le projet avorte. Mais sa tante, la contralto Louise Homer, et son oncle, le compositeur Sidney Homer , veilleront à ses études et à sa carrière musicales.
Il reçoit donc une formation de pianiste (avec William Hatton Green), et d'organiste très jeune, et étudie au Curtis Institute de Philadelphie entre 1924 et 1932. Il y suit les cours de Rosario Scalero, pour la composition, de George Boyle puis d'Isabelle Vengerova, pour le piano, de Fritz Reiner, pour la direction d'orchestre, de Gogorza, pour le chant. Il y rencontre, en 1928, Gian Carlo Menotti, qui deviendra son compagnon. La même année, il reçoit le prix Bearns pour sa Sonate pour violon.
Il est de nouveau gratifié du prix Beans, pour l'ouverture de The School of Scandal, en 1933. La Pulitzer Scholarship lui est decernée en 1935. En 1936, le prix de Rome (américain), s'y ajoute, ce qui lui permet séjourner deux ans à Rome, et de voyager en Europe.
Il crée sa première Symphonie en 1936, à Cleveland, qui est reprise au Festival de Salzbourg. La même année, il compose son premier quatuor à cordes, et en tire son Adagio, qui devient, jusqu'à nos jours, son œuvre la plus célèbre, au point qu'il est devenu une musique quasi officielle de funérailles nationales, reprise aussi au cinéma.

Adagio
De 1939 à 1942, il enseigne au Curtis Institute de Philadelphie.
Il s'installe en 1943 avec Menotti à Mount Kisco à New York, mais il est mobilisé dans la Seconde Guerre mondiale. Après la guerre, il revient en Europe, où il occupe un poste de conseiller à l'Académie américaine de Rome. En 1947, Wladimir Horowitz crée sa Sonate pour piano (1947)
En 1950, il compose l'opéra Vanessa, sur un livret de Menotti, créé au Metropolitan Opera de New York.En 1966, il compose un second opéra et à Salzbourg en 1958. Un second opéra pour l'inauguration de la nouvelle salle du Metropolitan, Antoine et Cléopâtre.
Barber ne s'est jamais ferment inscrit dans un mouvement musical, ses oscillations entre le néo-romantisme de l'Adagio, la polytonalité Concerto pour violon (1939), le néo-classicisme (Capricorn Concerto, 1944), le dodécaphonisme (Sonate pour piano, 1947), ont quelque peu desservi sa postérité.
En 1973, Menotti et Barber se séparent, et vendent leur maison de Mount Kisco.
Catalogue des œuvres
1917, op. I /3, Mélodie en fa majeur, pour piano (inédit)
1917, s.op., Sadness, pour piano (inédit)
1917, Sometime, « to Mother », voix et piano (inédit)
1917, Why Not, sur un poème de K. Parsons, voix et piano (inédit)
1918, op. I / 4, Largo, pour piano (inédit)
1918, op. I / 5, War Song, pour piano, (inédit)
1918, op. II / 3, In the Firelight, voix et piano(inédit)
1919, III / 2, Lullaby, pour piano (inédit)
1919, op. II / 4, Isabel, sur un poème de J. G. Whittier, voix et piano (inédit)
1919, op. III / 1, At Twilight, pour piano (inédit)
1920, s.o, The Rose Tree, opéra sur un mlivret de A. S. Brosius (tentative enfantine avortée)
1920-1923, op. VII, 7 Nursery Songs, « to Sara », soprano et piano (inédit)
1921 s. op., (vers 1921), Hunting Song, sur un poème de J. Bennett, voix de baryton, piano, cornet (inédit)
1921, op. V / 2, Thy Will be Done, 3 strophes d'après The Wanderer, voix et piano (inédit)
1921, s. op., An Old Song, sur un poème de C. Kingsley, voix et piano (inédit)
1923 (vers 1923), s. op. , October Weather, sur un poème de S. Barber, soprano et piano, (inédit)
1923 (vers 1923), X / 2, Themes, pour piano (inédit)
1923-1924, s.op., 3 Sketches, pour piano [Love Song (to Mother), To my Steinway (to Number 220601), Minuet (to Sara)]
1924 (vers 1924), op. XIV, My Fairyland, sur un poème de R. T. Kerlin, (inédit)
1924 (vers 1924), s. op., Minuet, soprano, alto, piano (inédit)
1924 (vers 1924), s.op., œuvre sans titre, « Laughingly and briskly », pour piano, (inédit)
1924 (vers 1924), Summer is Coming, d'après A. Tennyson, 2 voix solistes et pour piano, (inédit)
1924, 2 Poems of the Wind, sur des poèmes de F. MacCleod, pour voix et piano [Little Children of the Wind ; Longing] (inédit)
1924, op. XIII, Christmas Eve, Trio avec solos, 2 voix solistes, soprano, alto, alto, orgue (inédit)
1924, s. op. , Dere Two Fella Joe, voix aigüe et piano (inédit)
1924, s.op., Fantasie, 2 pianos (inédit)
1924, s.op., Petite berceuse (to Jean), pour piano (inédit)
1925, op. 16, Sonata in Modern Form, 2 pianos(inédit)
1925, s. op. Lady when I Behold the Roses, sur un poème anonyme , voix et piano (inédit)
1925, s. op., 2 Songs of Youth, pour voix et piano [ « I Never Thought that Youth would Go », poème de J. B. Rittenhouse ; « Invocation to Youth », sur un poèpme de L. Binyon]
1925, s. op., Fantasy in Purple, sur un poème de L. Hughes, voix et piano (inédit)
1925, s. op., La nuit, sur un poème de A. Meurath, voix et piano (inédit)
1925, s.op., A Slumber Song of the Madonna, sur un poème d'A. Noyes, voix, orgue
1925, s.op., Prelude to a Tragic Drama, pour piano, (inédit)
1925, s.op., To Longwood Gardens, orgue, (inédit)
1925-1926, s.op., Fresh from West Chester, « Some Jazzings », ( Poison Ivy, a Country Dance ; Let's Sit it out, I'd rather watch. « I Sam Barber did it with my little hatchet, a walls » (inédit)
1926, s. op., An Earnest Suit to his Unkind Mistress not to Forsake him, sur unpoème de Sir T. Wyatt, voix et piano, (inédit)
1926, s. op., Ask me to Rest, sur un poème de E. H. S. Terry, voix et piano (inédit)
1926, s. op., Au clair de la lune, voix et piano (inédit)
1926, s. op., Hey Nonny No, voix et piano
1926, s. op., Man, sur un poème d'H. Wolfe, voix et piano (inédit)
1926, s. op., Music, when soft voices die, sur un poème, P. B. Shelley, vers voix et piano (inédit)
1926, s. op., Thy Love, sur un poème d'E. Browning, voix et piano (inédit)
1926, s. op., Watchers, sur un poème de D. Cornwell, voix et piano (inédit)
1926, s.op., 3 Essays, pour piano (inédit)
1927, s. op. , Rounds, 3 voix et piano [« A Lament », Shelley ; « To Electra », R. Herrick ; « Dirge : Weep for the World's Wrong » ; « Farewell » ; « Not I », (R. L. Stevenson ) ; « Of a Rose is al myn Song » anonyme daté de 1350 ; « Sunset », Stevenson ; « The Moon », Shelley ; « Sun of the Sleepless », Byron ; « The Throstle », Tennyson ; « When Day is Gone », R. Burns ; « Late, Late, so Late », Tennyson ; « Guinevere »] (inédit)
1927, s. op. Dances, sur un poème de J. Stephens, 1927, voix et piano (perdu)
1927, s. op. Mother I cannot mind my wheel, sur un poème de W. S. Landor, 1927, voix et piano (inédit)
1927, s. op. Only of Thee and Me, sur un poème de L. Untermeyer, voix et piano (perdu)
1927, s. op., There's Nae Lark, sur un poème de A. Swinburne, voix et piano
1927, s.op., 4 Partitas, pour clavier (inédit)
1927, s.op., 4 Préludes de chorale, pour clavier (inédit)
1927, s.op., Prélude et fugue en si mineur, pour orgue (inédit)
1927-1934, op. 2, 3 Songs, voix et piano [« The Daisies », Stephens, 1927 ; « With Rue my Heart is Laden », A. E. Housman, 1928 ; « Bessie Bobtail », Stephens, 1934]
1928, op. 1, Serenade, cordes quatuot ou orchestre
1928, op. 4, sonate pour violon, en fa mineur (perdu)
1928, s. op., The Shepherd to his Love and the Nymph's Reply, voix et piano (inédit)
1930-1931, s.op., Pièces pour carillon [Round, Allegro, Legend] (inédit)
1931, op. 3, Dover Beach, sur un poème de M. Arnold, Mezzo pi baryton, quatuor à cordes
1931, op. 5, The School for Scandal, ouverture pour orchestre
1931-1932, s.op., 2 Interludes (Intermezzi), pour piano (n° 2, inédit)
1932, op. 6, Sonate, pour violoncelle
1932, s.op., Suite pour carillon (4 pièces)
1933, op. 7, Music for a Scene from Shelley, 1933
1934, s. op, Addio di Orfeo (Claudio Monteverdi), arrangement pour voix, cordes et harpe, en ré mineur (inédit)
1934, s. op. Love at the Door, d'après Meleager, traduction de J. A. Symonds, 1934
1934, s. op., Serenader, sur un poème de G. Dillon, voix et piano
1935, op. 8 / 1-2, The Virgin Martyrs, sur un texte de Siegebert de Gembloux, dans une traduction de H. Waddell, 2 sopranos, 2 altos, 1935 ; Let down the bars, O Death, sur un, texte d'E. Dickinson, soprano, alto, ténor, basse
1935, s. op., Love's Caution, sur un poème de W. H. Davies, 1935
1935, s. op., Night Wanderers, sur un poème de Davies, voix et piano
1935, s. op., Of that so sweet imprisonment, sur un poème de J. Joyce, voix et piano
1935, s. op., Peace, d'après Bhartirihari, traduction de P. E. More, voix et piano
1935, s. op., Stopping by Woods on a Snowy Evening, sur un poème de R. Frost, voix et piano
1935, s. op., Strings in the earth and air, sur un poèpme de J. Joyce, voix et piano
1935, s.o., musique de scène pour « One Day of Spring » de M. Kennedy, créée à Winter Park (Floride), le 24 janvier 1935
1935-1936, op. 10, 3 Songs, Joyce : « Chamber Music », arrangement pour voix et orchestre [« Rain has fallen ; « Sleep now » ; « I hear an army »
1936, op. 11, Adagio for Strings, (arrangement du 2e mouvement du Quatuor à cordes)
1936, op. 9, Symphonie n° 1, 1936
1936, s. op., The Beggar's Song, sur un poème de Davies, voix et piano
1936, s.op., Quatuor à cordes, (arrangements pour cordes et chœur, orgue, voir opus 11)
1937, op. 12, Essay, pour orchestre (I)
1937, s. op., In the dark pinewood, sur un poème de Joyce, voix et piano
1937-1940, op. 13, 4 Songs [« A Nun Takes the Veil », G. M. Hopkins, 1937, arrangement pour soprano, alto, ténor, basse ou soprano, chœur soprano, alto, alto ; « The Secrets of the Old », W. B. Yeats, 1938, voix et piano ; « Sure on this shining night », J. Agee, 1938, voix, orchestre et chœur, piano ; « Nocturne », F. Prokosch, 1940, arrangement voix et orchestre]
1937-1940, op. 16, Reincarnations, sur des textes de Stephens, 4 voix (Mary Hynes, Anthony O'Daly, The Coolin)
1938 (vers 1938), s.op., Motetto, d'après « Job », 4 voix, 8 voix (inédit)
1938, s.op., God's Grandeur, sur un texe de G. M. Hopkins, soprano, alto, ténor, basse s.op.,
1939, op. 14, Concerto, pour violon
1939, s.op., Peggy Mitchell, sur un texte de J. Stephens, 4 voix (inédit)
1940 (vers 1940), s.op., Ave Maria, d'après Josquin des Prez), 4vv (inédit)
1940, op. 15, A Stopwatch and an Ordnance Map, sur un texte de S. Spender, 3 voix d'hommes, 3 timpanis
1940, s.op., Song for a New House, sur un poème de Shakespeare, voix, flûte, pour piano (inédit)
1942, op. 17, Second Essay, pour orchestre
1942, s. op., Between Dark and Dark, su run poème de K. Chapin (perdu)
1942-1943, op. 18, 2 Songs [« The Queen's Face on a Summery Coin », R. Horan, 1942 ; « Monks and Raisinss », J. G. Villa] voix et piano
1942-1944, op. 20, Excursions, pour piano
1943, s.op., Ad 'bibinem' cum me regaret ad cenam, sur un texte de Fortunatus, 4 voix sans accompagnement
1943, s.op., Commando March, pour orchestre d'harmonie
1943, s.op., Funeral March
1944, op. 19, Symphonie n° 2 ; révisée en 1947 ; 2e mouvement révisé sous le titre « Night Flight » (1964, op.19a)
1944, op. 21, Capricorn Concerto, flûte, hautbois, trompette, cordes
1944, s.op., Long Live Louise and Sidney Homer, canon (inédit)
1945 (vers 1945), s.op., Horizon, pour orchestre (inédit)
1945, op. 22, Concerto pour violoncelle
1946, op. 23, Medea (Serpent Heart), pour le ballet de Martha Graham, créé le 10 mai 1946; révisé sous le titre « The Cave of the Heart », créé à New York, le 27 février 1947 ; arrangé en suite pour orchestre, créé le 5 décembre 1947, par le Philadelphia Orchestra, sous la direction de E. Ormandy ; « Medea's Meditation and Dance of Vengeance », op.23a, 1953, créé à New York, le 2 février 1956, à New York sous le direction de D. Mitropoulos
1947, op. 24, Knoxville : Summer of 1915, sur un poème d'Agee, voix aigüe et piano (inédit), révisé en 1950, version voix et orchestre de chambre
1947, op. 25, Nuvoletta, d'après « Finnegans Wake » de JamesJoyce, voix et piano
1949, op. 26, Sonate, pour piano
1950-1951, op. 27, Mélodies passagères, sur des poèmes de R. M. Rilke, voix et piano [« Puisque tout passe » ; « Un cygne » ; « Tombeau dans un parc » ; « Le clocher chante » ; « Départ »
1952, op. 28, Souvenirs, ballet pour T. Bolender, créé à New York, le novembre 1955 ; arrangé en suite pour piano à quatre mains, 1952, créé à la NBC TV,en juillet 1952 ; arrangé en suite pour orchestre, 1952, créé à le 12 novembre 1953, par l'orchestre symphonique de Chicago, sous la direction de F. Reiner ; Arrangé en suite pour piano, 1954
1952-1954, op. 29, Hermit Songs, textes irlandais des 8e-13e siècles, voix et piano [« At Saint Patrick's Purgatory s, traduction de S. O'Faolain ; « Church Bells at Night », traduction de H. Mumford Jones ; « Saint Ita's Vision », traduction de C. Kallman ; « The Heavenly Banquet », traduction d'O'Faolain ; « The Crucifixion », anonyme d'après « The Speckled Book », traduction de Mumford Jones ; « Sea-Snatch », traduction de W. H. Auden, arrangement pour soprano, alto, ténor, basse, piano en 1954 ; « Promiscuity », traduction d'Auden ; « The Monk and his Cat », traduction d'Auden ; « The Praises of God », traduction d'Auden ; « The Desire for Hermitage », traduction d'O'Faolain]
1953, op. 35, A Hand of Bridge, opéra en 1 acte sur un livret de menotti, 4 vois solistes, orcherstre de chambre, créé à Spoleto, le 17 juin 1959
1954, op. 30, Prayers of Kierkegaard, texte de S. Kierkegaard, soprano, amto, ténor ad libitum, chœur, orchestre
1954, op. 36, Adventure, flûte, clarinette, cor, harpe, instruments exotiques (inédit)
1955, op. 31, Summer Music, quinette à vents
1956, s.op., Under the Willow Tree, 1 voix, soprano, alto, ténor, basse, piano
1956-1957, op. 32, Vanessa, opéra en 4 actes sur un livret de Menotti, créé à New York, au Metropolitan Opera, le 15 janvier 1958, sous le direction de Mitropoulos ; revision en 1964
1958, op. 34, Wondrous Love, « variations on a shape-note hymn », pour orgue
1959, op. 33, Nocturne, « Homage to John Field », pour piano
1960, op. 36, Toccata festiva, orgue, orch, 1960
1960, op. 37, Die natali, Préludes de chorale pour Noël
1961, op. 38, Concerto pour piano ; 2e mouvement transcrit pour flûte et piano
1961, op. 38a, Canzone (Elegy), flûte, piano (transcription du 2e mouvement du Concerto pour piano
1961, s.op., Heaven-Haven (A Nun Takes the Veil), soprano, alto, ténor, basse / soprano, soprano, alto, alto, 1961 (d'après l'opus 13 n° 1)
1961, s.op., Sure on this shining night, soprano, alto, ténor, basse, piano(d'après l'opus 13, n° 3)
1962, op. 39, Andromache's Farewell, d'après « The Trojan Women » (les Troyennes) d'Euripide, traduction de J. P. Creagh, soprano et orchestre
1964, s.op., Chorale for Ascension Day (Easter Chorale), texte de P. Browning, chœur, cuivres, timpani, orgue ad libitum
1966, op. 40, Antony and Cleopatra, opéra en 3 actes, sur un livret de F. Zeffirelli, d'après W. Shakespeare, créé à 1966, New York, au Metropolitan Opera, le 6 septembre 1966, sous le direction de T. Schippers ; revisé en 1974, créé à New York, le 6 février 1975, sous la direction de Conlon
1967, op. 11, Agnus Dei, chœur, orgue ou piano (arrangement du 2e mouvement qu Quatuor à cordes)
1967, s. op., Mutations from Bach, Cuivres, chœur, timpanon
1967, s.op., The Monk and his Cat, soprano, alto, ténor, basse, piano (d'après les « Hermit Songs » opus 29)
1968, op. 42 / 1, Twelfth Night, sur un poème de Laurie Lee ; 2. To be Sung on the Water, sur un poème de Louise Bogan, 4 voix sans accompagnement
1968, s.op., Two Choruses : 1. On the Death of Antony, 2 sopranos, alto, piano ; 2. On the Death of Cleopatra, soprano, alto, ténor, basse, piano(d'après « Antony and Cleopatra »)
1968-1969, op. 41, Despite and Still, voix et piano [« A Last Song » , R. Graves ; « My Lizard », T. Rilke ; « In the Wilderness », Graves ; « Solitary Hotel », d'après « Ulysses » de James Joyce ; « Despite and Still » Graves]
1970, Variations on Happy Birthday, dédié à Eugene Ormandy (inédit)
1971, op. 43, The Lovers, sur un poème de Pablo Neruda, baryton, chœur, orchestre
1971, op. 44, Fadograph of a Yestern Scene, d'après « Finnegans Wake » de J. Joyce
1972, op. 45, 3 Songs, voix et piano [« Now have I fed and eaten up the rose », G. Kellern traduction de JamesJoyce ; « A Green Lowland of Pianos », J. Harsymowicz, traduction de C. Milosz ; « O Boundless, Boundless Evening », G. Heym, traduction de C. Middleton]
1977, op. 46, Ballade, pour piano
1977-1978, op. 48 posthume, Canzonetta, hautbois, cordes
1978, op. 47, Third Essay, pour orchestre
sd., s.op., Commemorative March, violon, violocelle, piano
Bibliographie
Discographie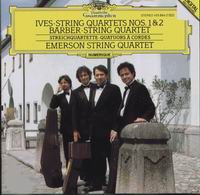 Barber
Quatuor de cordes op. 11 (1936)
Emerson Strings Quartet
Deutsche Grammophon 435 854-2
(Avec les quatuors 1 & 2 de Charles Ives)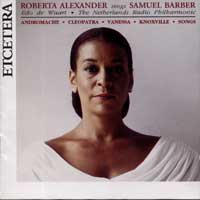 Samuel Barber>
Scenes, Arias and orchestra songs
Roberta Alexanser, Soprano
The Netherlands Philharmonic
Edo De Waart, dir
Enregistré en août 1992 à Rotterdam
ETCETERA KTC 1145
Jean-Marc Warszawski
22 septembre 2009